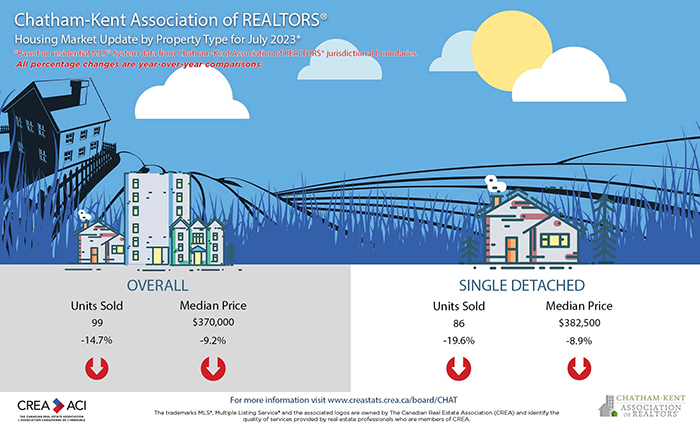 A hot, moist July in Chatham-Kent did nothing to spur home sales in the area.
The Chatham-Kent Association of Realtors (CKAR) report only 99 residential properties changed hands in the municipality last month.
That's down nearly 15 per cent from July 2022, and 26.6 per cent below the five year average for home sales in the seventh month of the year.
So far this year, home sales remain well off what was sold in 2022, with a decrease in excess of 17 per cent reported. In total, 717 units have changed hands over the course of the first seven months of 2023.
Matt Bechard, president of CKAR, said things went "sideways," despite the fact more homes are on the market.
"Home sales posted a decline from year-ago levels and continued trending sideways on a monthly basis in July," he said in a media release "On the supply side, new listings are coming in at healthy levels and although somewhat lower compared to historical averages, overall inventories are higher than they have been in about seven years. With a well-supplied market that is firmly in balanced territory."
Despite the balance, the numbers indicate it's a buyer's market at this time, as the price of homes sold last month was down by 16 per cent compared to July of 2020, at $414,110.
Active property listings are about 50-per-cent higher than the five-year average. This despite the fact the number of new listings hitting the market in July was down sharply by about 16 per cent from July 2022. There were 228 new residential listings in July 2023.
Active residential listings numbered 390 units on the market at the end of July.