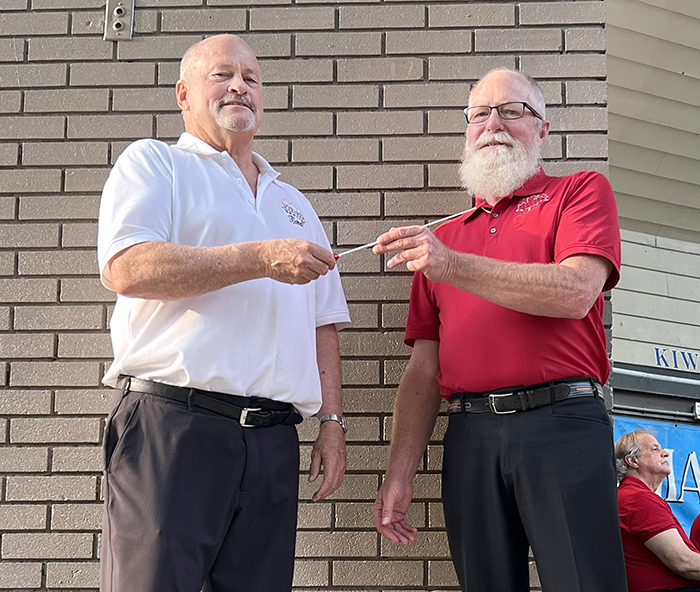 By Pam Wright
Local Journalism Initiative Reporter
Conducting the Chatham Concert Band has turned into a 40-year gig for Vaughn Pugh.
And that's on top of the 20 years he spent playing various instruments as a band member of what has become an iconic Chatham institution.
To mark four decades of Pugh leading the concert band's popular summer concert series, the veteran musician was surprised with a commemorative baton Aug 2 by fellow band member Bill Patterson. The presentation marked the re-creation of a picture taken by reporter Bob Boughner in 1984 showing the two dark-haired mustachioed young men in suits, with Patterson replete in retro aviator glasses.
The back-to-the-past remake at the Tecumseh Park bandshell saw Pugh accept the baton a second time.
The local lawyer, a proficient musician who plays several instruments, has now earned the distinction of serving as the Chatham band's longest-reigning music director in its 96-year history.
Longevity seems to come with the turf. Pugh replaced Phil Carney, who held the post for 24 years. Carney followed in Sid Chamberlain's footsteps, who served as the band's conductor for the first 31 years.
CCB president Mark Broadbent said Pugh "always advocates for the band and is the public face of the band," noting he and the band are "effectively synonymous.
"He is a talented and learned musician on trumpet, flugelhorn, French horn and piano," Broadbent said. "He has a strong understanding of a variety of musical styles and genres, everything from classical, rock, jazz, big band and funk.
"Band members certainly benefit from his deep understanding of music.
Pugh, who came to the band as a youngster by way of its free music makers education program, is married with two children and a granddaughter.