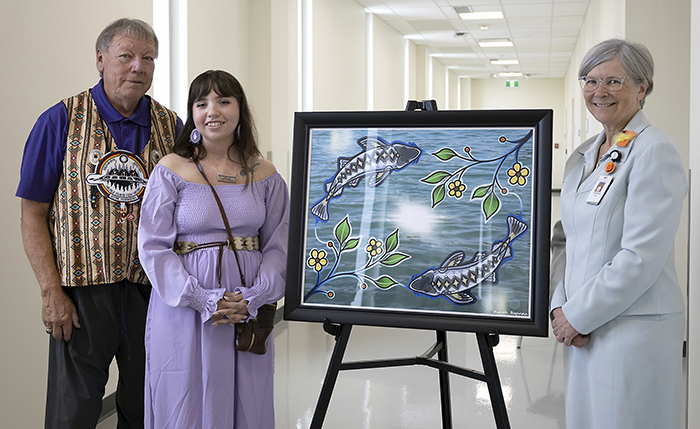 A vibrant painting by Indigenous artist Mariah Alexander that symbolizes healing now graces the emergency room at the Chatham-Kent Health Alliance Wallaceburg campus.
Called "Revitalizing River," the piece depicts sturgeon and flowers in the deep blues of the Syne River, which Alexander said aims to "connect" people to their land and family.
"On top of an image I captured of the Syne River, sturgeon and flowers flow into one another," the Walpole Island resident said in a recent media statement.
"Sturgeon represent depth and strength, as well as connection to ancestors and teachings," Alexander explained. "The florals symbolize regeneration. The strength of our ancestors, loved ones, and the land flows within you."
Alexander's painting was chosen as part of the CKHA's Innovation Grant Program. The program offers staff, physicians, volunteers and patient advisors the opportunity to bring forward ideas to spur positive change at CKHA that either benefits patients, or improves the quality of the workplace for employees.
Earlier this year, the hospital's WeRCKHA Staff Engagement Council voted on the grant submissions and Indigenous artwork was selected as one of seven $1,000 grant recipients. The hospital then put out the call for Indigenous artists to submit an application for the opportunity and Alexander was chosen as the successful candidate.
Walpole Island First Nation Chief Dan Miskokomon praised the painting, saying "Revitalizing River speaks to our collective journey towards a future where Indigenous traditions and culture are nurtured." He noted Alexander's creation "celebrates youth in our community and their contributions to sharing Indigenous teachings and knowledge."
CKHA president and CEO Lori Marshall added her appreciation.
"We are so pleased to showcase Ms. Alexander's artwork at our Wallaceburg site," Marshall said. "Her piece not only adds beauty to our hospital, but also serves as a symbol of our commitment to embracing diversity and promoting inclusivity within our organization."