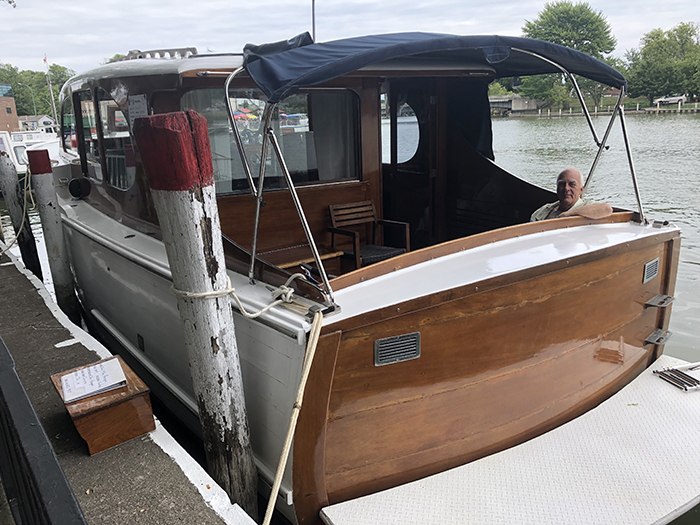 WAMBO is nearly upon us!
The 35th rendition of the Wallaceburg Antique Motor & Boat Outing kicks off on Friday.
Chair Bill Wolsing said interest is overflowing for the event.
"We are good to go. We have over 200 cars on display this year, plus a wide range of old Harleys and other motorcycles," he said. "We are doubling our boat display (from last year). We've got some American boats coming over. We are expecting about 45 to 50 boats."
That includes The Welland, an 80-foot tugboat that will come up the Sydenham River to take part in WAMBO this year.
On top of the cars, motorcycles and boats, Wolsing said there will be a gathering of antique fire trucks on the south side of the river on Wallace Street.
"It will be a massive fire truck display," he said. "I think they'll be drawing water from the Sydenham and shooting it back into the river, showing how fire trucks work."
An ongoing hurdle WAMBO organizers have had to deal with is the closure of the L.O. Stonehouse Memorial Walking Bridge. Out of commission for two years, the bridge was a handy link for residents crossing the river.
With events on both sides of the Sydenham, Wolsing said WAMBO organizers are running shuttle wagons over the course of Saturday.
"WAMBO is as big as it can get. The south side is a big part of WAMBO. The walking bridge is traditionally our connection," he said. "We've revamped our people mover system. We're basically having a 24-person covered wagon moving people around."
Events and displays on the south side include the fire trucks, activities at the museum, a Canadian Armed Forces display and the soapbox derby.
As much as the loss of the walking bridge is an obstacle, COVID-19 was a full-on roadblock.
"I'm really happy that COVID is over and we can really start moving forward. It really set us back a bit," he said of WAMBO organizers.
WAMBO kicks off with boats arriving over the course of the day Friday.
The Knights of Columbus will be running their barbecue at the K of C Hall and will feature live music.
The Terry Glover Memorial Cruise embarks from Canadian Tire at 7 p.m., travelling to Dresden and back.
Cold South, a southern rock tribute band, hits the main stage downtown about 7:30 p.m. Friday.
Saturday features the vehicle displays along Main Street, and the fire trucks on Wallace Street.
Art in the Park takes place downtown near the library.
Vendors will showcase their wares all day long.
Rope making, face painting, giant Plinko and a dunk tank are part of the fun set up at the Wallaceburg & District Museum.
Soapbox races take place on the south side at 1 p.m.
The fire trucks go on parade about 3 p.m.
Strange Magic, an Electric Light Orchestra tribute band, will entertain downtown that evening.