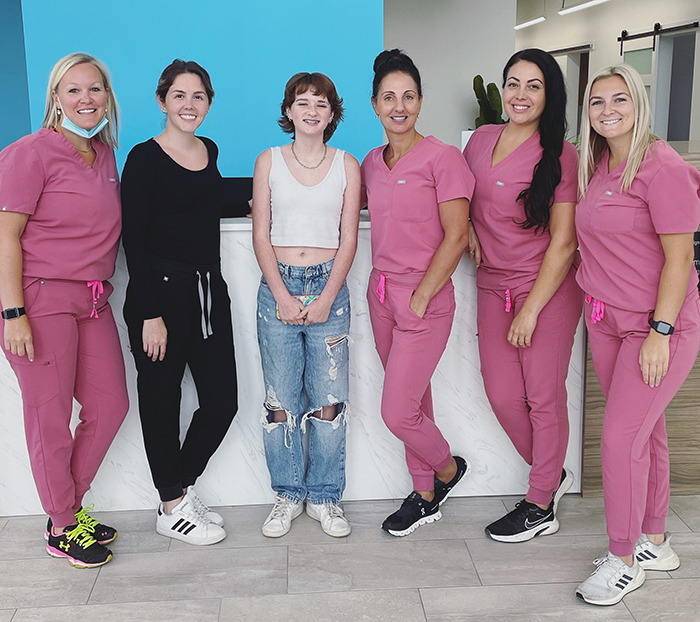 Abraham Orthodontics is now open on St. Clair Street in Chatham.
Dr. Maxwell Abraham and his team's innovative service, affordable braces and Invisalign solutions, and expertise are now locally available to families of all ages.
Abraham Orthodontics has opened a new state-of-the-art facility at 729 St. Clair in Chatham, their second location since launching in Leamington in 2016.
"We are so excited to launch our orthodontic practice, not only for the many families who have travelled to Leamington to see us for years to get perfect smiles, but also for the opportunity to connect with their friends and families and serve them close to home," Abraham said in a media release. "We take pride in making treatment as transparent as possible by providing free smile assessments and records, flexible, interest-free payment plans with no down payment, and efficient service."
Although most children will not receive treatment until they are teenagers, Abraham recommends that the first visit be made by the age of seven to provide families with an understanding of current and future issues that need to be addressed.
The Abraham team is excited to give back to the community as a long-time supporter of schools throughout Chatham-Kent.
"Our newest team members are from Chatham, and they are excited to be back in the community and supporting our patients in their schools and on the field in all corners of Chatham-Kent," Abraham said.
A referral is preferred but not required to schedule a free smile exam, and families can do so by calling 519-398-8101 or visiting abrahamorthodontics.com.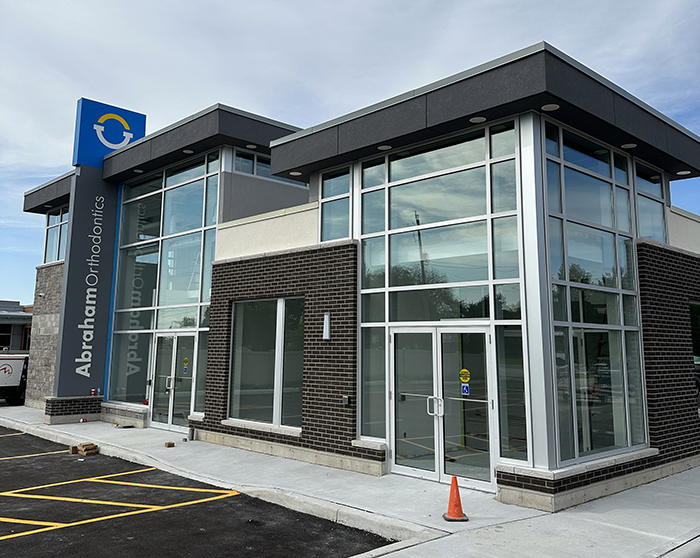 Realty Energy Group on the move
The Realty Energy Group, a Royal LePage Peifer Realty team, is moving in right beside Abraham Orthodontics.
The team is comprised of Patrick Pinsonneault, Darren Hart, Carson Warrener and Marco Acampora.
"We are very excited to launch the new Royal LePage satellite office in the Abraham Orthodontics building. Max (Abraham) has really raised the bar for local development with this build and we didn't hesitate in being a part of the success of this location," Warrener said in a media release.
"Investments like this, take years of planning and development and add tremendous value to our community through employment and competitive professional services," he added. "We identified last year that our team would require a modern and fully accessible office space and Max has certainly delivered."
The office is a full service real estate office and is the only Royal LePage commercial office in Chatham-Kent. The REG team expects their office improvements to be completed in mid-August.
Tea time
Mrs. Bell's Tea Room has a rather busy month planned.
On Aug. 10, the Third Street business is hosing a S'mores Tea Party, with sittings at 11:30 a.m. and 1:30 p.m.
A day later, Zen by Jen pops by to host a chair yoga class, which will be followed by tea and treats. The class begins at 10 a.m.
On Aug. 17, the evening will be alive with poetry, beginning at 6:30 p.m. and featuring Michael Dudley and Tavis Lea.
A week later, on Aug. 24, is the Just Bee-Cause Tea Party, an ode to the honeybee.
Seafood fare
Small Plates, located inside Gentry Manor, is having an Under the Sea dinner on Aug. 26.
From oysters to crab, salmon, tuna and more, the meal is a treat to the taste buds.
Call 519-351-5600 for tickets.
Uride effort helps ALC
Uride's Ride for a Reason has raised nearly $8,000, and the funds will help seniors' centres across the country, including the Active Lifestyle Centre in Chatham.
The ridesharing company held its event July 25, with 10 per cent of all fares that day going to seniors centres.
"We are extremely proud of the overwhelming response," Cody Ruberto, founder and CEO of Uride said in a media release. "The dedication and support from our riders have not only raised a significant amount of funds but have also shown great compassion for our senior citizens."
Business Voice is a bi-monthly column in The Chatham Voice that highlights some of the achievements made and efforts underway in Chatham-Kent's business community. Send your information to bruce@chathamvoice.com.