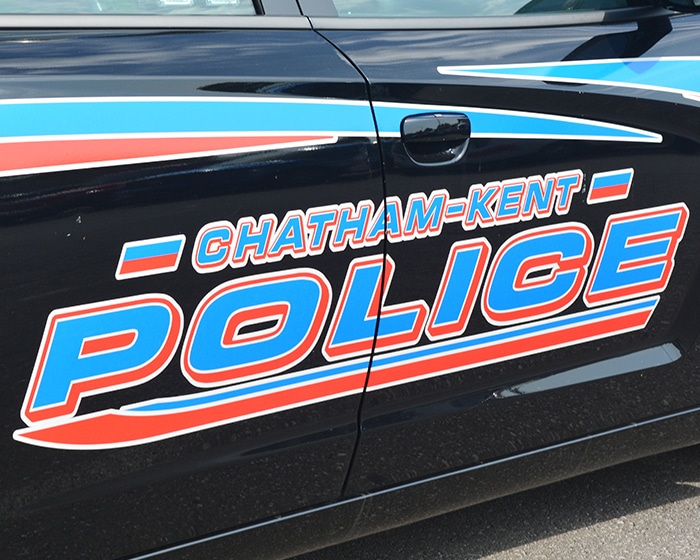 Robbery in Chatham
Police say someone assaulted a woman and made off with her purse – briefly – Monday night in Chatham.
At 10:31 p.m. police responded to Orchard Place in Chatham for a robbery investigation.
Through investigation, police confirmed the man and the woman met outside an Orchard Place apartment building. The man hit the woman in the head with a bottle and took her purse, police say.
The victim and the man were identified and located.
A 21-year-old Chatham Township man as charged with robbery.
Banging on door with 2×4 leads to arrest
On Aug. 1 at 2:23 a.m., officers attended to a noise complaint at an address on Elgin Street in Wallaceburg.
Officers were called to the same address again at 3:24 a.m., this time in response to a reported disturbance.
Upon arrival, officers discovered that following the initial noise complaint, the accused had left his residence and proceeded to bang on the victim's home using a 2×4 piece of wood while making threatening remarks.
A 42-year-old Wallaceburg man was arrested and charged with uttering threats and causing mischief. The man was transported to police headquarters and held for a bail hearing.
Obstructing police
At 8:20 p.m. Monday evening, police responded to Park Avenue West in Chatham for a disturbance involving a man screaming.
Upon arrival, the man attempted to flee the scene, entering neighbouring backyards in the process, police say. He was arrested under the Trespass to Property Act, and during the investigation, it was determined that he had provided a false name.
Upon confirmation of his identity, it was discovered that the man had warrants held by Windsor Police Service and was bound by several release orders.
A 40-year-old Tilbury East Township man was charged with obstructing the police.
Stolen goods recovered
A suspicious person investigation yielded stolen items and led to charges against a Wallaceburg woman Monday evening.
Police say officers responded to a suspicious person investigation shortly before 9 a.m. Police were advised a woman was in the backyard of a home on First Street in Wallaceburg.
Officers arrived on the scene and located the woman. She was in possession of items not belonging to her and was arrested, police say.
A 29-year-old Wallaceburg woman was charged with theft.