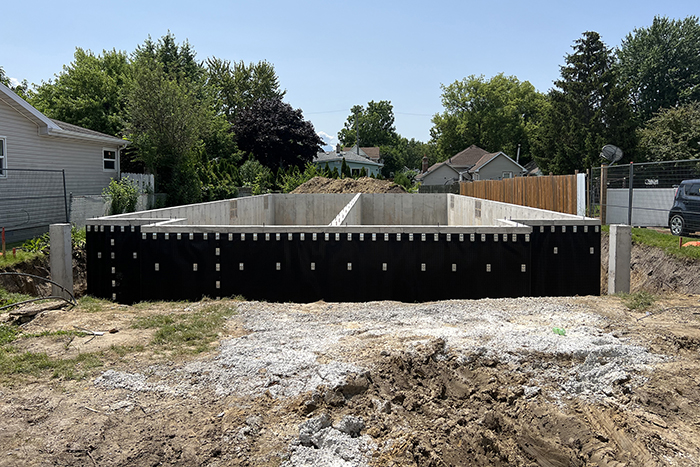 By Pam Wright
Local Journalism Initiative Reporter
Construction on a new Habitat for Humanity duplex is underway in Chatham, but the non-profit is still looking for the folks who will call it home.
"We definitely need some families," said Anne Taylor, volunteer manager for the Chatham-Kent branch of the global charity. Taylor said the agency is currently taking applications, and those interested can start the process by filling out a questionnaire on the organization's website.
The new semi-detached dwelling on Houston Street is rising on land gifted to Habitat by an anonymous donor.
The donor wanted to help a family secure their own home. Little did they know their gift would end up helping two families.
"The cool piece and exciting thing for us is that the donation will help two families," Taylor acknowledged. "We doubled his wishes and we're pretty proud of that."
The foundation has been poured on each of the 1,100-square-foot units, which are the eighth and ninth Habitat homes to be built in Chatham-Kent. The basements won't be unfinished, Taylor explained, noting residents can treat them like a "blank canvas" shaping them to their own family's needs.
There are strict guidelines in place for those who become owners of a Habitat for Humanity build. To qualify for an interest-free mortgage, owners must find a way to commit 500 worth of volunteer hours to the construction or to the organization in lieu of a down payment, and they must also be spending no more than 30 per cent of their income on housing.
Potential homeowners must also be employed in order to qualify, with a median income as outlined in the HFH guidelines.
ReStore manager Mike Coyne said increased costs across the board have changed the way Habitat homes are built in the wake of the COVID-19 pandemic.
Because COVID regulations prohibited groups on site, more work is now being done by contractors, with volunteers coming on site to undertake lesser-skilled work, such as painting, often as part of a team-building exercise. Coyne said there is a lot of work that only licensed tradespeople can do, such as roofing, electrical and putting up trusses.
Every build is different, he said. "It depends on the project. There's also a shortage of people so we find the easiest way to make it smooth as possible."
Yet even though the methodology has changed, Habitat's goal remains the same.
"Everything is costing more," Coyne said. "But we're still trying to put families in homes that will make generational change."
Taylor agreed.
"It's the evolution of where we're at," she said. "At the end of the day, we want to put houses up as soon as possible."
The need for affordable housing is real. According to the C-K Habitat for Humanity website, one in six residents in the municipality lives in poverty, including one in five children. Currently, there are 1,000 people on a waitlist for social housing, with the average wait time listed as 4.5 years.
In another new development, Habitat for Humanity C-K is planning to build a new ReStore outlet at the corner of Sass Road and Junction Road. It will be one of the first builds in the industrial park located off Park Avenue East in Chatham.
Chatham-Kent council approved a zoning bylaw amendment for the build at a recent planning meeting.
Taylor said the charity needed to find a new home as the lease at the store's long-time Riverview Drive location in Chatham is expiring.