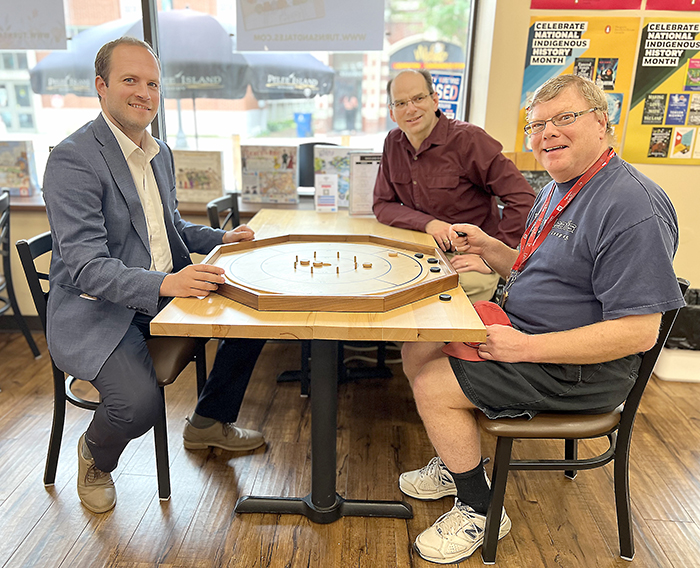 By Pam Wright
Local Journalism Initiative Reporter
Federal MP Nate Erskine-Smith believes he's the one who can lead the Ontario Liberal Party back from the political wilderness.
Thrice elected to the House of Commons to represent the Toronto riding of Beaches-East York, the former lawyer is looking to head up the province's red team.
Currently there are five hopefuls in the race that culminates in a leadership convention this November. The Ontario Liberals hold only seven of 124 seats at Queen's Park.
As part of getting to know Ontarians around the province, Erskine-Smith paid a visit to Turn's and Tales in downtown Chatham July 15 to shake a few hands and discuss the current state of the province under Doug Ford's Progressive Conservatives.
"The Ford government puts short-term electoral gain ahead of the public interest," Erskine-Smith told The Voice. "It's the opposite of what we need. Instead, the government should be looking at long-term investment in infrastructure."
The 39-year-old said the Ontario leadership race comes down to whoever can "engage the largest number of people to join the party and grow the party."
"The party has lost its active presence in many parts of the province, especially here in Southwestern Ontario, so the reason I'm travelling as much as I am, is that I want to reach people and build and active an active presence," he said.
Erskine-Smith said there's an opportunity to learn the lessons of the federal Liberal's reboot eight years ago, to rebuild active relationships and to "listen."
Growing up in Toronto, Erskine-Smith cut his political teeth during Ontario's Mike Harris years that were marked by cutbacks and labour unrest. As a youngster he stood on the picket lines with both his parents, who were teachers.
Unlike some of the other candidates, Erskine-Smith has ties to rural Ontario. His wife Amy Symington, a Toronto chef who is currently doing a PhD in nutritional science, hails from the farming community of Wyoming in Lambton County. The couple have two children.
Erskine-Smith said he repeatedly hears the same problems in his travels around the province. Housing affordability, mental health and addiction issues, and a lack of access to health care are the number one concerns he hears, noting there are 2.1 million Ontarians who do not have access to a health team.
Erskine-Smith believes in being "more independent in politics and less partisan," adding he's willing to work across party lines to get things done.
"My message to people in Chatham is if you want better from politics, the answer is participation," Erskine-Smith said.