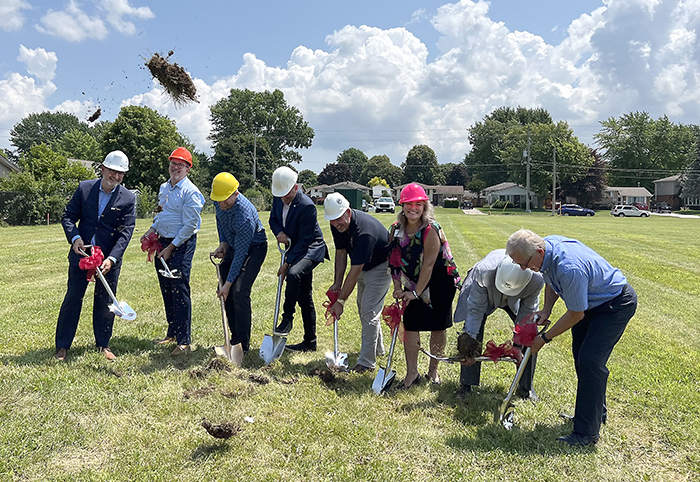 By Pam Wright
Local Journalism Initiative Reporter
Ten years in the making, the new 160-bed St. Angela's Meadow Care Centre is about to take shape in west Chatham.
According to officials, construction will get underway at 20 Merici Way adjacent to St. Angela's Meadow Retirement Lodge within one week's time.
Ontario Minister of Long-Term Care Paul Calandra paid a special visit to the municipality July 24 to help break ground on the long-awaited announcement.
"Today marks a significant milestone for Chatham-Kent," Calandra told the crowd. "When construction is completed, 160 residents will have a new place to call home, near their family and friends."
Calandra praised the efforts of the Ford government for doubling down on its commitment to improve long-term care, explaining the Chatham-Kent community is getting 500 new beds, which he said is more than the Liberals accomplished in two previous governments.
"I want to put that in context," he added, noting the Liberal government only built 611 long-term care beds in the province in eight years.
Calandra said his government has been "trying to catch up" from day one and will build 30,000 new beds in Ontario by 2028. By way of a $10-billion investment, he said Ontario has 31,705 new and 28,648 upgrade beds in the planning, construction and opening stages.
As well, he said, Ontario is investing $5 billion in staffing with a goal of hiring 27,000 additional LTC workers.
He said progress in LTC entails taking down old out-dated homes and replacing them with modern facilities, noting it's "important to transform long-term care.
"It's not just about building homes," he said. "We listened. For far too long governments in Ontario treated long-term care like an institution, whereas you and your staff and your teams told us these are homes."
Meadow Park Chatham administrator and emcee Anne Marie Rumble was all smiles as she kicked off the event.
"This is actually so surreal," Rumble said, "and hard to believe we are finally here and ready to officially break ground for a new home that we have been hoping, wishing and dreaming of for so long.
"This is something our community and residents and team members are so deserving of, she said. "Today we break ground, this is a tangible step forward for our Meadow Park community."
North York-based Corebuild Construction has the contract to build the new home, with completion slated for the spring 2026.
Owned and operated by Jarlette Health Services, St. Angela's Meadow Care Centre will provide 61 new beds and 99 upgraded beds in private and semi-private rooms. It will be air conditioned and offer large communal spaces. Seniors currently housed at Meadow Park will be moved to the new facility when it's ready.
The Chatham home is only the second of its kind in Ontario to utilize the holistic "butterfly" model in its design and approach, offering emotionally centred care for dementia patients and others with memory issues, that honours the legacy of their lives. The other new butterfly, also being constructed by Corebuild, is located in Temiskaming.
Chatham-Kent–Leamington MPP Trevor Jones said the new facility will provide a "campus of care" with state-of-the-art technology and diagnostic services that are usually carried out in a hospital.
Jones said the new home is more than just a building and is a "game changer" for Chatham-Kent.
"Our loved ones deserve to live their golden years in an environment that is modern, safe and equipped with all the necessary resources to provide the excellent care our seniors deserve."
The LTC minister commended Chatham-Kent municipal officials for their willingness to spur the new project forward, noting some Ontario municipalities "put up roadblocks," delaying efforts. Calandra also encouraged other municipalities to get on board because new homes are getting built no matter what, noting the province will "remove those obstacles" if necessary.
"The people of this province have had enough and we are making serious investments and we expect our partners at all levels to help us make these investments," Calandra added.
In addition to St. Angela's Meadow Care Centre in Chatham, the province is supporting two other projects in the municipality, another in Chatham and one in Blenheim. All three combined will provide 84 new and 268 long-term care beds, for a total of 352 beds built to modern standards.
Jarlette Health Services owns and operates eight retirement homes and 14 long-term care facilities in Ontario.
As of April 2023, more than 40,000 people were on the waitlist to access a long-term care bed in the province. The median wait for applicants to be placed in long-term care is 123 days.
The project was announced by the Ford government in 2020 but was pushed back due to pandemic delays.