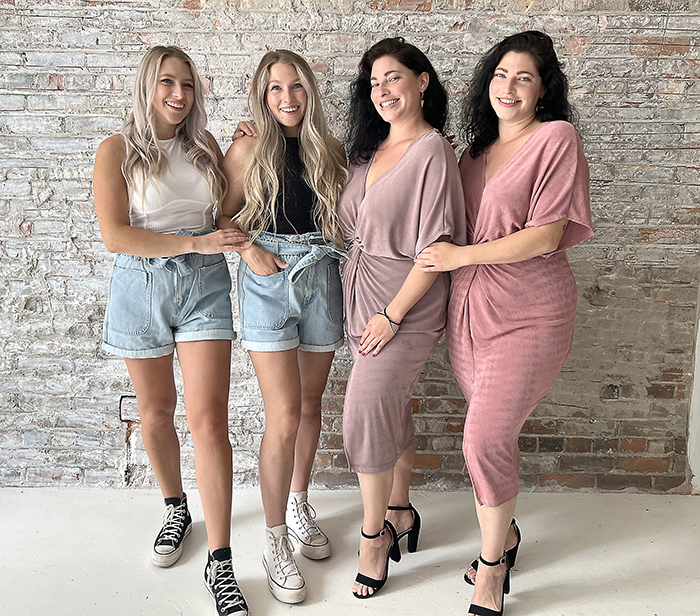 By Pam Wright
Local Journalism Initiative Reporter
Never underestimate the Sisters Strain or Chatham-Kent.
That's what veteran actors Kat and Karissa Strain have to say when it comes to their own future, and that of C-K's burgeoning film industry.
The identical twins are currently in the pre-production throes of filming a screenplay they've written titled "Call of the Blackbird." It's a fictional story loosely based on their experience of returning to their hometown, following 12 years of chasing their film careers in Toronto and Los Angeles.
"It's our passion project," said Kat in a recent interview. "We knew we wanted to do something really big that stayed true to our own story."
According to Karissa, the sisters have scraped together their savings – both also work in real estate with their father Rick Strain – to bankroll the film. Along with the help of local sponsors, the camera will roll Aug. 8, with Kat and Karissa both in front of, and behind, the lens.
The Chatham-Kent Secondary School graduates said the movie intertwines with their experience growing up on Grand River Line beside a Christmas tree farm, where they sat on the banks of the Thames River, engaging their active imaginations.
It goes on to tell how the twins moved to the big city – Kat and Karissa left Chatham when they were 17 – and then returned home to face the challenges of life in a small town, working in real estate, living with their parents and forging ahead towards their dreams.
In real life, Kat and Karissa returned to Southwestern Ontario in 2021, when COVID-19 derailed their two-year experience in Hollywood.
Discovered in a modelling competition as young teens, the two famously acted as body doubles for Mary Kate and Ashley Olson in the movie New York Minute. Since then, they've appeared in a wide variety of productions, including the psychological thriller Twinsanity, that ran on Netflix and Prime.
The Strain Sisters' credits also include MGM's newer adaption of the horror film Carrie, Wynonna Earp, Todd and the Book of Pure Evil, Murdoch Mysteries, Scare Tactic and Shadow Hunters.
After founding Sister Strain Films, the two have written, self-produced, directed and starred in several short films, while also penning four new screenplays.
Last year they were busy promoting a horror film they wrote, which garnered a decent response at Frontières Market in 2022 – an event that connects filmmakers with international distribution companies, producers and financial backers.
Getting their screenplays to the big screen is part of the reason the two are making "Call of the Blackbird," as it will be their "calling card" for the film industry, Karissa explained, showcasing what the Strain Sisters can do.
"We've got the four films we're always pitching," Kat added. "'Call of the Blackbird' is like a test run…we need to show what we're capable of in order to get funding."
Along with telling their own story, Kat and Karissa, both single and childless by choice, explore female-related topics in their movie. Their own songs and poetry will also be featured in the film.
Many locals have already stepped up to lend a hand with "Call of the Blackbird." Mayor Darrin Canniff appears as himself in one scene.
Identical twins Nicole Ostropolec and Danielle Wells also play a role in the movie. The pair, owners of The Studio Sisters photography space in downtown Chatham, agreed to sponsor the Strains by allowing them to film in the space.
"We're happy and proud to support them," Ostropolec said.
Kat and Karissa said others have stepped up to help. In their teenage years, the two worked at Little Caesar's Pizza, and owners Mark and Mike Demore have agreed to supply them with pizza as needed.
"Mark and Mike are always the first at the table to support us," Kat said.
The Sisters Strain hope their example will encourage others to follow their heart's desire.
"We are happy to be here in Chatham to make our own dreams come true," Kat said.
"We also want to reach out to young women interested in acting and film," Karissa added, noting the pair aims to hire as many females as possible to work on "Call of the Blackbird."
"It's a big mission of ours," Kat said. "We want women's voices to be heard. Plus, it's an opportunity to get exposure."
If interested in playing a role in the film, supporting it through sponsorship, or to work behind the scenes, send an e-mail to contact@sistersstrain.com.