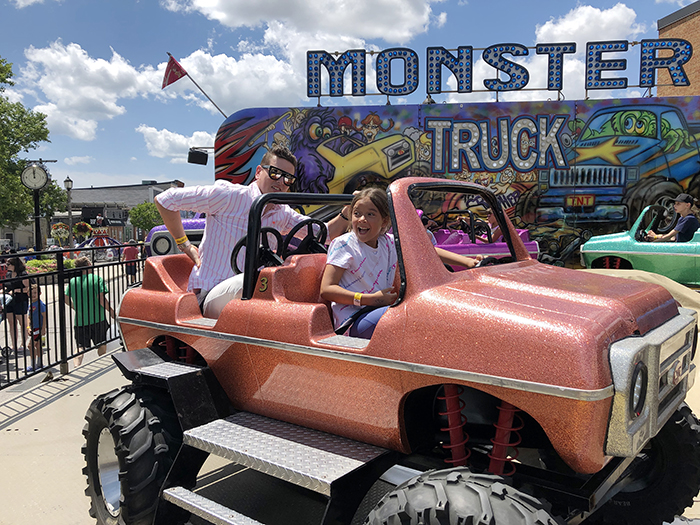 Midway rides, sidewalk sales and full bellies are just part of the menu for Cherry Fest 2023.
J.P. Huggins, chair of Cherry Fest, said the annual three-day event, taking place July 13-15 this year, will be chock full of food and fun.
For starters, World's Finest Shows is bringing in the rides again. Huggins said they'll fill the downtown with fun.
"It looks like we'll have at least seven rides and we're hoping for an eighth," he said. "A couple of them have never been at Cherry Fest before."
He reminds people that all-day ride passes are just $25, same as last year.
Cherry Fest will again feature a plethora of cherry-related food, including the ever-popular cherry pies.
But Huggins said if you want to purchase one of the pies, you'd best get to Cherry Fest early, as last year's local cherry crop suffered greatly, resulting in less of the key ingredient for the pies.
The Blenheim Youth Centre has again teamed up with Parks Blueberries to bake pies this year, while local business A Taste of Home is also baking pies. 
"If you want one of those fresh-baked pies, I urge you to get out early," Huggins said.
However, if you want other tasty cherry-related delights, you're in luck. Huggins said cherry-glazed ribs, cherry candied apples and more will be on the menu.
In terms of entertainment, it's a busy three days. Huggins said, with performances from local groups and organizations, and other interesting entertainment.
The fun kicks into high gear the Thursday night with Cherry-Oke, something that has really taken off in terms of popularity.
At stake is a $100 prize that can be spent in the downtown core.
"We started it (Cherry-Oke) as a filler event, but it's gone crazy. We do it for three hours on Thursday night and we have to cut people off," he said. "People come out with their own binders of karaoke CDs. Some are in costume and have a whole dance routine to go with their song."
Thanks to a grant from the Ridge Community Landfill Trust, there is added entertainment this year.
The Huggins Brothers, Level Up Band and Cellar Door will be performing at various locations in Blenheim, and two professional buskers will wow crowds as well.
Cobbler Jay, who performed at Cherry Fest years ago, Huggins said, will put on three shows Friday, while Barry O, a children's performer, will do the same on Saturday.
As well, Spirit of the 60s performs Friday night.
A core feature of Cherry Fest are its pit-spitting contests, where participants try their luck at firing a cherry pit, with just lung power, as far as they can.
The qualifying and tryouts take place Friday afternoon, Huggins said. Starting at 11 a.m. on Saturday, the kids' competition will take place, followed by a celebrity pit spit and then the national championship.
Another great spectating event is the pie-eating contest Friday evening.
Huggins is a Cherry Fest veteran. He spent 13 years running the cherry pit spitting side of things, and has been overall event chair for the past nine.
This is the 40th anniversary of the event, actually. Huggins said Sidewalk Days has an even longer history, dating back to the 1950s.
As for the cherries, Huggins said Joe Lessard and Hector Delange brought the event over from St. Clair, Mich. in 1983. Initially, the event took place in Cedar Springs, but it moved to Blenheim more than two decades ago.
Huggins said to expect a great weekend.
"We've got lots of sales, lots of good stuff and lots to do for families," he said. "It should be a really good event."
For more details, search blenheimcherryfest on Facebook.