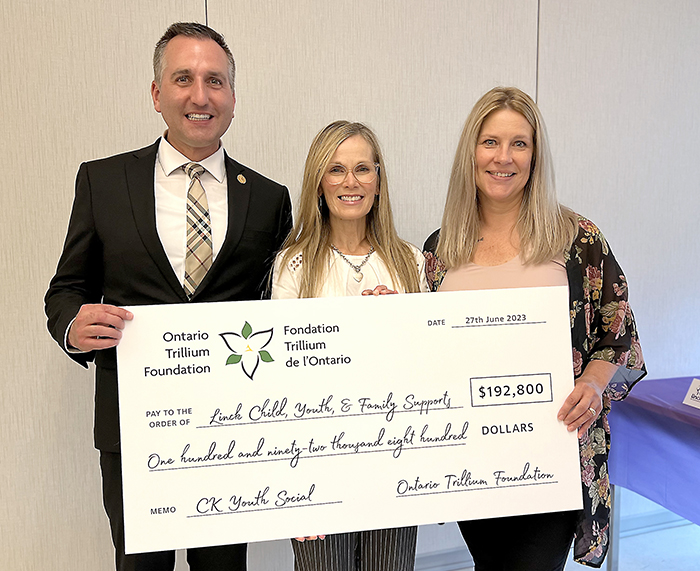 By Pam Wright
Local Journalism Initiative Reporter
A drop-in program designed to empower local youth is being expanded thanks to a $192,800 boost from the provincial government.
Chatham-Kent–Leamington MPP Trevor Jones presented a cheque from the Ontario Trillium Foundation's Resilient Communities Fund to Linck Child, Youth and Family Supports at the agency's recent annual general meeting.
According to Linck executive director Teri Thomas-Vanos, the funding will allow the popular program to open its doors four nights a week, rather than three, for the next two years.
"We look forward to the energy and opportunity that these funds will create," said Thomas-Vanos, noting the CK Youth Social effort exists to enrich the lives of youth across Chatham-Kent.
"We strive to set good examples, encourage positive growth and establish a feeling of safety and care."
The initiative, held at Linck headquarters on Grand Avenue in Chatham, provides a colourful, comfortable space where young people can come and learn about decision-making, social skills, life skills, participate in field trips, all while having fun. It was developed following feedback from youth and parents in the community worried about the isolation brought on by the COVID-19 pandemic.
Linck youth engagement advisor Cassidy Taylor said the young people who attend the program are excited about the expansion.
"Youth have consistently been asking us to open our doors more days a week since we started a year ago," Taylor said, adding they feel their opinions "played a part in making it happen."
MPP Jones said the funding will afford individuals "the capacity to develop skills and the experiences necessary to adapt to changing circumstances."