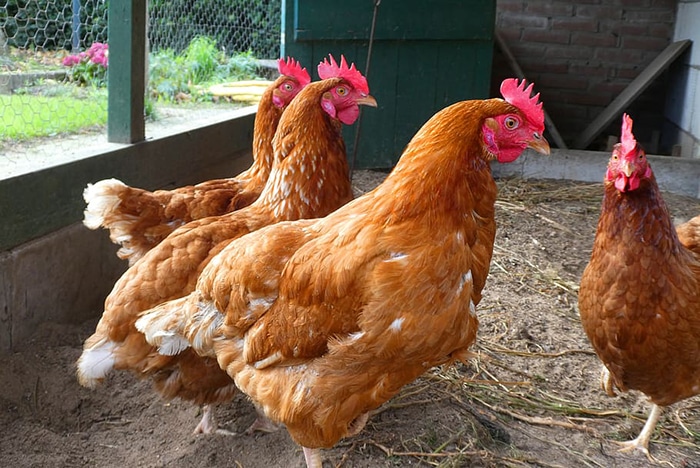 By Pam Wright
Local Journalism Initiative Reporter
If the information gleaned from a public meeting on allowing backyard chickens in urban Chatham-Kent is any indication, making a decision on the issue isn't going to be easy for elected officials.
Held at St. Mary's Church Hall in Blenheim June 29, the meeting saw local egg and broiler producers present a solid case against the move, while citizens who already raise backyard chickens made strong points for the other side.
Thamesville-area producer Ed McKinlay, who has 30,000 laying hens and 50,000 broiler chickens in his operation, said that if urban backyard chickens are allowed, it significantly raises the threat that avian influenza will make its way into commercial poultry operations.
"It creates more opportunity for infection," the long-time farmer told the meeting, adding that once the disease is detected, entire flocks must be destroyed.
McKinlay pointed out that avian influenza has wreaked havoc in the United States, which has led to egg shortages and higher prices for North American consumers.
"It's serious," McKinlay said. "It's real and we don't want to put our food system in jeopardy."
His comment that allowing backyard chickens "seems to be irresponsible" was met with applause.
South Kent egg farmer Colin Vyn said his farm was impacted by the avian flu in 2022, when the highly pathogenic disease was detected near his farm. Because he was in the 10-kilometre "bio-security zone" mandated by the Canadian Food Inspection Agency, his operation was put under intense scrutiny and sampling.
He said it was a stressful time, with his family wondering how they would pay the mortgage if the avian flu was found in his chickens.
Avian influenza, which has decimated poultry operations around the globe, has been detected twice in the last two years in the municipality. In March 2022 it was found in a commercial flock, and in April 2023 it was detected in a non-commercial flock, according to CK Public Health. However, CKPH officials said the source of those infections remains unclear.
A large number of backyard chicken supporters also took their turn at the microphone. Shrewsbury's Mark Wright, who said he's been raising Cornish game hens all his life, said he was fined by the municipality and told to get rid of his birds because of a single complaint from a resident.
Wright usually provides a bird for Shrewsbury's unique Groundhog Day tradition where Frank the Chicken predicts whether there is going to be six more weeks of winter.
"I'm not paying the fine," Wright said. "You could just as easily get it (avian flu) from migratory birds."
Other residents asked why it's okay to raise pigeons but not chickens; why chickens can be raised in Brampton but not Chatham-Kent; why cats aren't licensed and allowed to roam freely, and why chickens can't be raised in urban areas if they are contained and kept clean.
A Let's Talk Chatham-Kent survey taken earlier this year received nearly 5,000 responses, with 68.4 per cent of respondents saying they are in favour or allowing backyard chickens in urban areas. There are no restrictions in land zoned agricultural.
In Ontario, only 26 cities/municipalities out of 444 permit backyard urban chickens, meaning 94 per cent do not.
No neighbouring municipalities allow them, with the exception of the City of Sarnia.
During the presentation, it was pointed out that urban backyard chicken programs in nearby Tecumseh and in Toronto were discontinued because significant resources had to be funnelled towards monitoring the project.
The Kent Federation of Agriculture is officially opposed to allowing urban backyard chickens locally, as are the Egg Producers of Ontario.
The meeting was held as a last-chance opportunity for the public to voice concerns about the issue before it returns to Chatham-Kent council July 10.