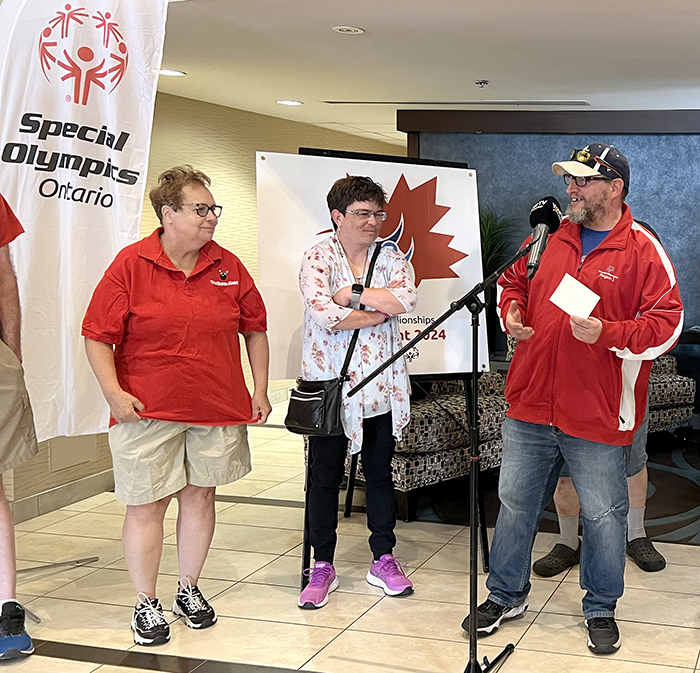 By Pam Wright
Local Journalism Initiative Reporter
After more than a quarter of a century, the Special Olympics School Championship Games are returning to Chatham-Kent.
The competition, to be held June 10-12, 2024 will see more than 1,000 Ontario athletes aged 14 to 21 compete in five different sports, including track and field, bocce, basketball, soccer and floor hockey.
Next year's games feature a new twist on an old theme. The Chatham Police Service sponsored the games in 1997, and the amalgamated Chatham-Kent Police Service will take on the role in 2024.
"It's an excellent opportunity and a first for our police service," said CKPS Sgt. Jason Herder, games manager and co-chair for the event. "In 2024, we will be stronger together, and we welcome any organization that wants to get involved and work together with us to have the most incredible experience yet with our special athletes."
Cody Jansma, vice-president of operations for Special Olympics Ontario, said the organization is pleased to partner with CKPS on the event, noting Herder's leadership and the repeated success of the law enforcement torch run had a lot to do with the decision.
Plus, he said, Chatham-Kent was "overdue."
In his comments, Jansma made mention of the connection between Jason and his late father Const. Rob Herder who passed away in 2020, and Const. Mike Currie, who died in 2022.
Both the elder Herder, who was treasurer of the '97 games, and Currie, who co-chaired, were instrumental in fundraising for Special Olympics over the years, including many Law Enforcement Torch Runs.
After the younger Herder became a police officer, Currie recruited him to help with the run.
"It's safe to say Rob's legacy is living on and is shining bright in his son, Sgt. Jason Herder," Jansma said, calling him a "driving force" in bringing the games back to Chatham.
"We thank both the Currie and Herder families for their unwavering support of the torch run for the past 35 years," he added.
Herder said he is proud to carry on the legacy, beginning in 1997 when he was "voluntold" to pitch in.
"I hope that they are both looking down and proud to see that everything they did, and all the hard work they did to get this programming started back in the '90s, is still alive and thriving today," Herder said, adding he hopes the two are "looking over our shoulders, guiding us in the right direction."
Jansma urged Chatham-Kent to "get excited" for the games by volunteering, taking on a sponsorship opportunity, donating, or attending as fans.
"Come on out and witness first-hand the transformative power that is Special Olympics sport," Jansma said.
Mayor Darrin Canniff said the municipality is solidly behind next year's games.
"I can assure you Chatham-Kent will be stepping up 100 per cent," the mayor said at the announcement. "I'm thrilled we're able to bring this to Chatham-Kent next year."
Four major fundraisers to support the Special Olympics will be held in the coming year. The first, the Motorcycle Torch Ride will take place Aug. 12. The poker run will begin at Bob's Motorsport and hit historical landmarks such as Rondeau Park before ending at the WAMBO celebration in Wallaceburg. Tickets are available on Eventbrite.
The law enforcement torch run event, renamed in honour of the tireless Currie takes place Sept. 9. The Mike Currie Memorial Run will feature routes for runners and walkers of all abilities. There will also be 30 and 60 km. bike rides kicking off from Blenheim Rotary Park.
The Polar Plunge, which is traditionally the largest fundraiser of the year, will return Jan. 20, 2024 at the Sons of Kent Brewing Company. The polar plunge website is expected to go live in the fall and officials are hoping to exceed last year's goal of $86,000.
The final "Over the Edge" fundraising event will be held on June 8, 2024 as part of the kickoff to the championship games. Those raising funds in the event will rappel off a building in an as-yet-to-be-determined location.
Locations in both Ridgetown and Chatham are the host sites of the June 10-12 games, including Ridgetown's high school and the University of Guelph/Ridgetown Campus, as well as facilities at St. Clair College. Chatham-Kent Secondary School has been asked to host the track and field events.
A new logo for next year's games was also unveiled. As well, Winmar Property Restoration and TekSavvy have officially stepped forward to sponsor the event.