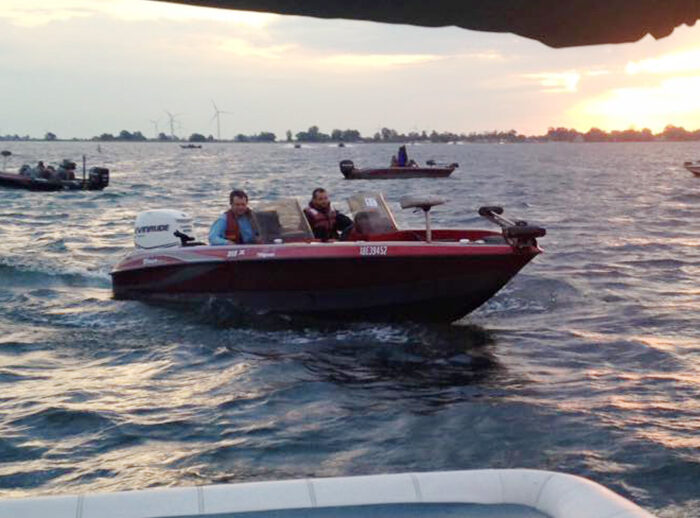 Nearly 200 avid fishermen will descend on Mitchell's Bay next month to take part in what is rapidly becoming the largest bass tournament in the country.
The Canadian Tire Mitchell's Bay Open takes place July 7-8 and will feature 190 anglers and 95 boats.
Although there are local participants, anglers come from as far away as South Carolina, Kentucky and Indiana to take part. Included in that group is Steve Clapper of Ohio, who is in the National Freshwater Fishing Hall of Fame.
Despite the strong U.S. showing, Tom Beaton, one of the tournament organizers, said the Canadians will be well represented.
"We've got Bob and Wayne Izumi, and David Chong, who is one of the top Canadian bass anglers," he said. "There are also previous Canadian national bass champions fishing the tourney. There's just a lot of talented pros fishing our tournament."
As big as the event has become, Beaton said it's at its maximum at this point.
"We're tapped out at 95 boats. Mitchell's Bay Marina can only handle so many boats and trucks," he said. "The 95 boats, that's the capacity without going and parking vehicles and trailers somewhere else."
How popular is the tournament? Beaton said two days following the completion of the tournament, they'll open up registration for the next year's event, and it will almost immediately book up.
Beaton points to the organizational effort – and Lake St. Clair – as to why the event has become so popular among pro anglers.
The people of Mitchell's Bay help make the event a success.
"It takes a village to host a bass tournament. We have over 50 volunteers," Beaton said. "Mitchell's Bay is committed to it. The day of the tournament, when our committee members say they need people for Saturday for 10 o'clock in the morning, boom, they all show up."
As for the lake, it's home to a thriving bass population
"The lake is noted as a bass factory. It's famous for bass fishing," he said. "That's a big attraction."
Beaton said the Canadian recreational boating/fishing industry pumps $10 billion annually into the economy.
"We are proud to be a part of that economic driver and offer anglers the opportunity to compete on a world-class bass hatchery," he said.
Lake St. Clair is relatively shallow, making it a great place to fish for bass just about anywhere on the lake, Beaton said.
And due to being part of the Great Lakes system, the lake is constantly refreshed with new water pouring down the St. Clair River from Lake Huron. That leads to ideal breeding grounds for many species of fish, he added.
However, anglers aren't restricted to fishing Lake St. Clair.
"It's an open tournament," Beaton said. "You can go anywhere. You can go fish Lake Erie or Lake Huron. It just depends on what kind of boat you have, how fast you can go and when you can get back."
Most participating anglers stick to Lake St. Clair and to the St. Clair River to the north of the Detroit River to the south.
"Everyone has their own preferences," Beaton said.
Returning as many fish to the lake as possible is a primary goal for tournament organizers as well. Each bass boat when it departs on tournament mornings is inspected to ensure it has a functioning live well.
After weigh in, fish are taken to the Long Point Bass Association's live release boat to be returned to the lake.
Beaton said the goal is to have a mortality rate of under one per cent.
This will mark the 12th year the committee has planned for the tournament, but ninth of the on-the-water event. Beaton said they spent the first two years planning and researching exactly what they'd need to accomplish to make a successful tournament. Following that, the tourney ran for seven straight years – until COVID-19 hit.
The open was cancelled in 2020 due to the pandemic, but returned in 2021, without spectators and on private property.
However, this will be the second year the tournament is back to normal.
Canadian Tire's support for the Kids Fishing Day is memorable. Beaton said 22 lucky kids will enjoy a morning of fishing, followed by lunch and an interpretive hike hosted by the Sydenham Field Naturalists. On top of that, each junior angler will go home with a rod, reel, tackle box and tackle.
Proceeds from the bass tournament go towards improvement in and around Mitchell's Bay.
"We've identified a couple of projects we want the money to go to. And the sponsors like to know where their money is going," Beaton said. "Ours is wetland habitat restoration, tourist enhancements, park developments, improvements to the beach area and making things more handicap accessible."