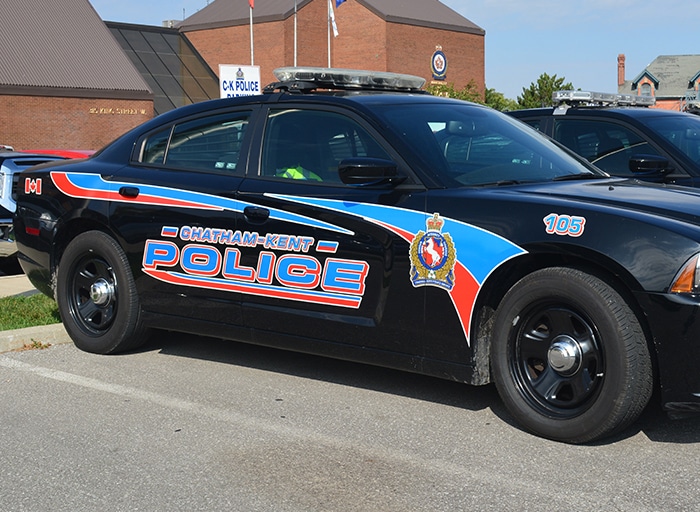 Bike theft short-lived
Thirty-five minutes after Chatham-Kent police learned of a theft Sunday, officers made an arrest.
At 8:26 a.m., police responded to a business on Third Street for a theft investigation.
Through investigation, police learned the man attempted to take a bicycle leaning against the business's wall. The man was identified through surveillance footage.
At 9:01 a.m., the man was located crossing the Fifth Street Bridge and arrested. The man was unco-operative and resisted arrest. Upon a search and incident to arrest, the man was found with methamphetamine in his pocket.
A 28-year-old Chatham man was charged with theft, possession of stolen property, resisting arrest, and possessing a controlled substance.
Landlord clubbed, man arrested
On Saturday morning, Chatham-Kent police say someone smacked their landlord with a piece of workout equipment.
Police got the call about 11 a.m. of a report of an assault in Blenheim.
Through investigation, police learned that an altercation had occurred between a man and his landlord, which culminated in the man swinging the piece of workout equipment at the victim.
A 61-year-old Blenheim man was subsequently arrested by police and charged with assault with a weapon.
Man punched, kicked; woman arrested
A Chatham woman is facing charges after police say a man was assaulted Saturday afternoon.
Police responded to a domestic dispute in the area of Harvey Street in Chatham. Through investigation, police learned that a woman punched and kicked a man several times, threw a flowerpot at him, hitting him in the chest, and also destroyed a separate planter box full of flowers by throwing it down the stairs.
Police subsequently arrested the woman for Assault x2, Assault with a Weapon, and Mischief Under $5000.
A 26-year-old Chatham woman faces two counts of assault, assault with a weapon and mischief charges.
Robbery charges
A woman faces robbery charges after a shoplifting complaint Friday morning.
Police say a woman walked into a Shoppers Drug Mart in Chatham about 10 a.m., gathered items, but made no attempt to pay for them.
When confronted by staff, she attempted to punch the employee and fled the store, police say.
A 37-year-old woman was later identified and arrested for robbery, police say.