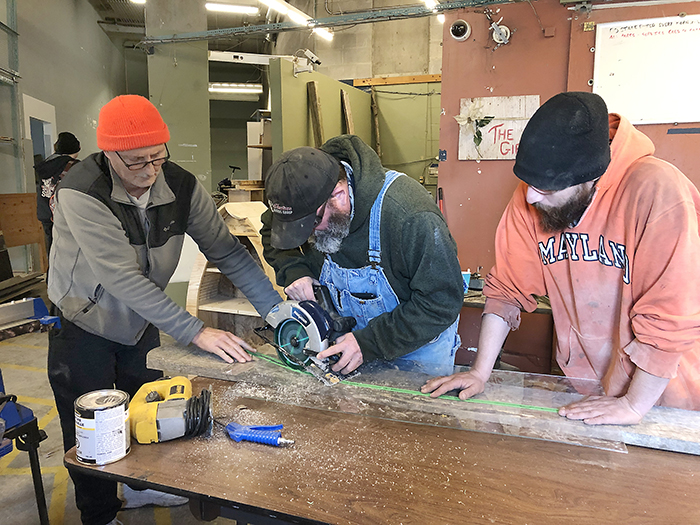 After two years operating out of the Downtown Chatham Centre, The Community Shop is searching for a new home.
The shop is part of ComeTogetherCK (CTCK), and the parent organization is in the hunt for a new space overall.
The registered non-profit organization seeks a building to accommodate its growing needs and amplify its impact within the community, officials said.
Since its establishment in 2020, CTCK has worked towards building community, unleashing untapped potential in residents and enriching lives across the municipality.
CTCK is a volunteer-led, incorporated not-for-profit entity that was instrumental in The May 16th Miracle food drive and The Gift annual Christmas gift/food drive, as well as several other initiatives designed to support the community.
As well, over the past two years, one of the initiatives the group has facilitated is the establishment of the ComeTogetherCK Community Shop. The shop operates as a workshop and pantry space to support members of the community. It operates with a volunteer group of more than 20 people who do whatever is needed.
Since The Community Shop was started, initiatives have included large downtown clean up days designed to clean debris and assist in beautification efforts in the downtown core, and more.
CTCK officials are looking for a new space with increased capacity and improved accessibility and convenience.
"As the demand CTCK's services has grown, there is an urgent need for a larger facility that can accommodate additional volunteers," CTCK officials stated in a media release. "This will enable the organization to serve a greater number of individuals and families within the community."
CTCK looks to expand existing programs and develop new initiatives in a new space as well.
Location for the building is important too. Officials said being centrally located will "ensure equitable access to services, making it easier for individuals from all backgrounds to benefit from the organization's programs."
CTCK's executive director Brent Wilken thanked the owners of the DCC for letting them establish The Community Shop there.
"We are extremely grateful to the owners of the Downtown Chatham Centre," he said. "The owners gave us space for The Gift 2021 as a distribution site and from there, The Community Shop was born. Had they not supported our vision and the work we do, The Community Shop may not exist today. We thank them for believing in us and giving us space to dream big."
Now, CTCK is looking for about 20,000 square feet, with sufficient parking, with potential for future expansion.
To contact CTCK, Wilken can be reached at 519-784-2800 or by e-mail at info@cometogetherck.com.