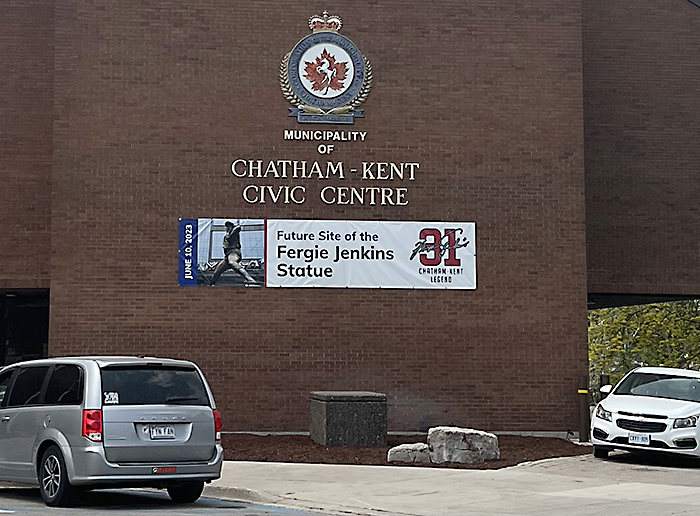 One of Chatham's beloved native sons and Canada's most celebrated MLB pitcher is set to honoured by his hometown for all time.
On June 10, the community will host the Fergie Jenkins Statue and Community Celebration, unveiling a likeness of the baseball star who grew up in Chatham.
The bronze statue, identical to the one of Jenkins that was unveiled at Wrigley Field in Chicago last year, will be presented to the public at the Chatham-Kent Civic Centre at 1:45 p.m.
Jenkins is one of only two Canadians in the Baseball Hall of Fame. He played professional baseball from 1965 to 1983 during which time he was the first Canadian to win the Cy Young award. A premiere pitcher of his era, Jenkins was a National League All-Star for three seasons and finished his career with 284 wins and 3,192 strikeouts.
"When you look at Fergie's accomplishments in baseball, it is simply amazing," said Chatham-Kent Mayor Darrin Caniff in a media release. "And the way Fergie has carried himself after his baseball career is equally impressive."
The unveiling ceremony is supported by a partnership with FirstOntario Credit Union and the municipality.
FirstOntario CEO Lloyd Smith said the credit union is proud to be part of the Chatham community and excited to "join the celebration and play a part in recognizing baseball hero and legend Fergie Jenkins."
The dedication ceremony takes place at 315 King St. W. in Chatham, and everyone is welcome to attend.
A family-friendly after party will follow at the Sons of Kent Brewing Co. in Chatham and will feature the FirstOntario Family Fun Zone, where the first 300 children will receive a complimentary Rawlings Chicago Cubs baseball, plus a hotdog and beverage.