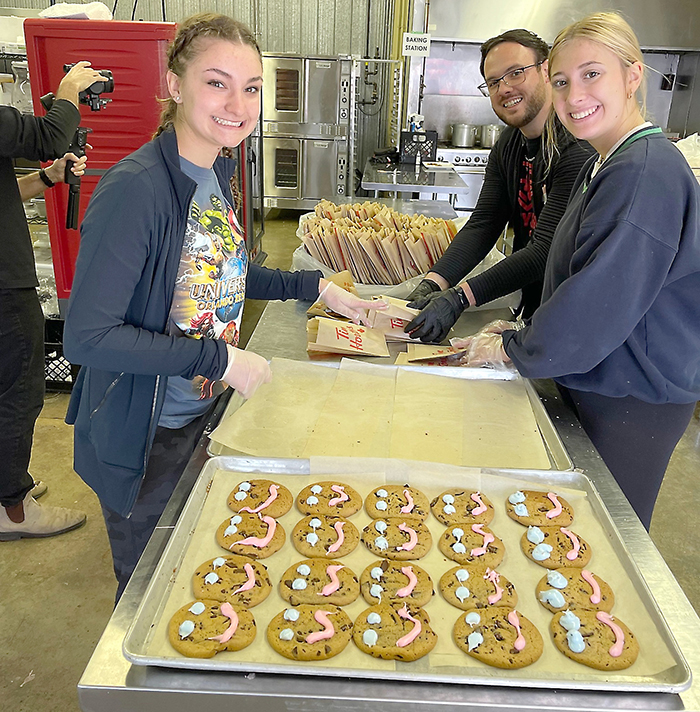 To many of us, the aroma of fresh cookies baking is intoxicating. But when you've baked about 5,000 yourself in one week, and had a hand in the baking of more than five times that number, you might have a different opinion.
Mike Genge, president of the Children's Treatment Centre of Chatham-Kent's Foundation, still has a big grin in the wake of the annual Smile Cookie campaign, but he's all cookied out for now.
Local Tim Hortons locations dedicate the proceeds from the Smile Cookie campaign to the treatment centre, and this year, organizers ramped up the baking.
The foundation, thanks to staffers Lisa Caron and Erin Genge, assembled 140 volunteers to bake cookies on top of what the Tim Hortons locations created.
"We had quite the week," Genge said. "We would start at 7:30 a.m. so when volunteers showed up, they would have cookies to start decorating."
Every big baking endeavour needs a large kitchen, and Genge said Lisa Lester of Four Diamond Events donated the use of the Chatham Armoury kitchen for a week.
"We built a little bakery/factory in the Armoury. We had an area where we made them, where we baked them, where we decorated them, where we dried them and then we had a delivery area," Genge explained.
With the efforts of the 140 volunteers, the foundation staff managed to crank out 25,500 cookies the first week in May.
The volunteers, largely coming from the likes of Enbridge, Handy Bros., Tek Savvy, Lally Auto Group and the Chatham-Kent Association of Realtors, worked in teams of ten, with two shifts creating the Smile Cookies each day of the campaign.
Genge said one small cluster of volunteers caused quite the stir, from his "own little New Scotland United Church" from just outside Rondeau.
Baking exploits of church women are legendary…and it led to heavy commitment from the local realtors.
"The Chatham-Kent realtors sent three shifts of 10. They're all competitive," Genge said. "Carson Warrener at one point said they wouldn't leave because they wanted to make more cookies than the church ladies. It was really funny. It meant we actually made more cookies."
The realtors baked 4,620 cookies in one day.
A baker's dozen of Tim's locations took part in Chatham, Dresden and Wallaceburg, and were baking cookies as well, just as they'd done previously. But this time around, with the extra effort, the outlets didn't run out suddenly when someone rolled through the drive-thru, ordering dozens of cookies for their company.
"In the past, it was tough for them to keep up," Genge said. "This time, sometimes, twice a day, we would load them back up. They were very happy when we showed up."
Genge doesn't have the financials from Tim Hortons yet, and does not expect anything for a few weeks. What he does know is he cooked about 5,000 cookies on his own, and the volunteer team overall created 25,500 of them.
That's $37,500 just from that effort, let alone the cookies baked at the Tim's locations.
And all of the proceeds go to the Children's Treatment Centre.
Last fall's effort raised $49,600.