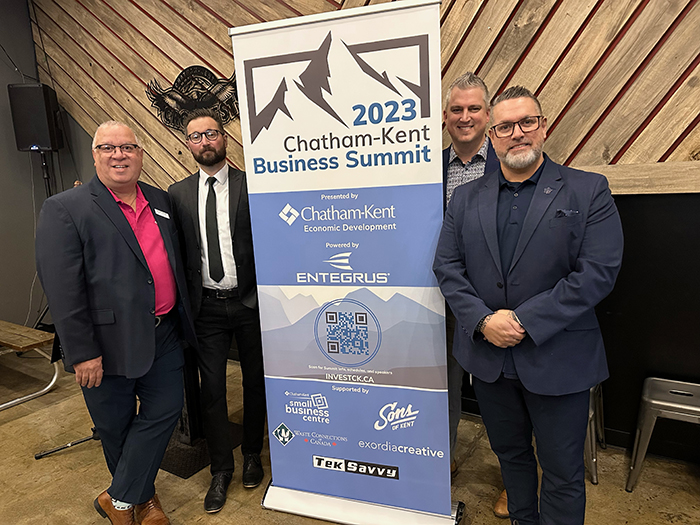 Chatham-Kent's business community is soaring to new heights next month.
That's when the first-ever Chatham-Kent Business Summit is set to take place.
Held at the John D. Bradley Convention Centre in Chatham April 20-21, the event is geared towards those who are starting, running or scaling a business in the municipality.
Hosted by Chatham-Kent Economic Development Services, the summit is designed to put everything under one roof that a person or organization might want or need to grow or start a new business.
"The summit is an event where entrepreneurs, business owners and anyone interested in doing business in Chatham-Kent can network and forge new partnerships," said Doug Robbins, small business officer for economic development and event co-organizer. 
"Chatham-Kent is growing and there's a resurgence in small business here," he said at last week's media kick-off event. "Small businesses are the cornerstone of the economy. Their growth is what's fuelling the economy.
"This is an opportunity to magnify the business opportunities that are possible here."
Motivational speakers are also on the summit agenda. CFL Hall of Famer Michael 'Pinball' Clemons will take the stage on day one, with Paralympic Gold Medalist Danielle Campo McLeod bringing her inspirational message on day two. 
Mayor Darrin Canniff said the summit will focus on Chatham-Kent's vibrant entrepreneurial spirit.
"If you're looking to start or grow a business in Chatham-Kent, this is an event you don't want to miss," Canniff said. "We're seeing record business growth in CK, and this event is designed to spark inspiration to continue this upward momentum."
The summit ins being put on in partnership with Entegrus, with sponsorship from local business including Teksavvy, Exordia Creative, Sons of Kent, Waste Connections of Canada and the Chatham-Kent Small Business Centre.
Vendors, such as businesses that provide a service that are interested in setting up booth are asked to register at www.eventbrite.ca/chatham-kent-business-summit-vendor-booth-registration-tickets-5888045458797.