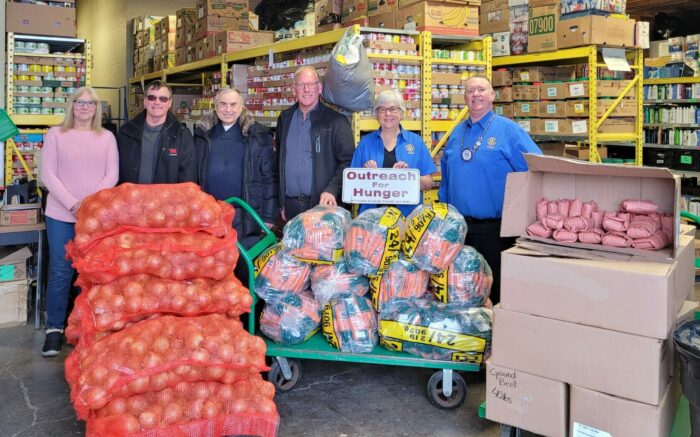 Outreach for Hunger's Brenda LeClair, left, accepts a donation of fresh produce from the Rotary Club of Chatham Sunrise's Roger McRae, Paul Roy, John Schinkel, Margaret Campbell and. Ken Bechard. With the help of Schinkels' Gourmet Meats and Nature's Finest Produce, the club has delivered more than $18,000 in food to the food bank this year.
It is said it takes a village to raise a child, but it also takes a tag team effort to feed those in need.
The Rotary Club of Chatham Sunrise recently teamed up with Schinkels' Gourmet Meats and Nature's Finest Produce to deliver needed food supplies to Outreach for Hunger food bank.
Chatham Sunrise Rotarians helped to deliver more than  $18,000 worth of groceries to Chatham Outreach For Hunger.
The Rotarians took on the challenge last year, and the 2023 effort more than doubled what was raised in 2022.
With the support of Schinkels' Gourmet Meats, this year the Rotarians added 2,000 lbs. each of carrots and onions in 2-lb. bags, in addition to a total of 1,560 lbs. of ground beef.
The fresh food helps assure vulnerable C-K residents get nutritious, quality food.
Working with Outreach's xxecutive director Brenda LeClair, the club has been delivering the meat and vegetables over the past couple of months in staggered deliveries to best meet the community need with the freshest product available.
The mission of Chatham Outreach for Hunger is to improve the quality of life for all Chatham-Kent citizens who are dealing with the problem of hunger by providing emergency food as an immediate response to hunger. Visit their website at https://outreachforhunger.com/ for information.
You can find out more about Nature's Finest Produce on their website:  https://naturesfinestproduce.ca/.
Visit Schinkels' Gourmet Meats at:  https://schinkelsgourmetmeats.com/