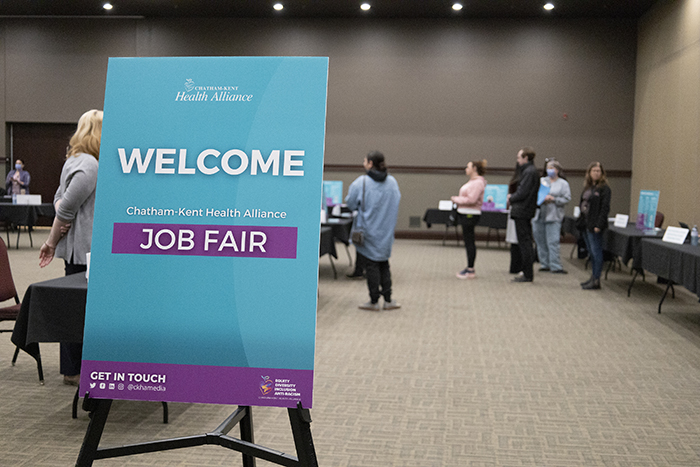 The Chatham-Kent Health Alliance held its first career fair in three years last week with a record number of people turning out to find out what jobs are available.
By Pam Wright – Local Journalism Initiative Reporter
The Chatham-Kent Health Alliance's first career fair in three years has drawn the highest number of job seekers ever.
According to Lori Marshall, CKHA president and chief executive officer, a total of 191 people turned up at the Bradley Centre March 21 to find out what jobs are available.
They also had the opportunity to speak to representatives from each of hospital's departments and staff members. On-the-spot job interviews were available and future interviews were booked as well.
"It was a great success," Marshall said of the event. "We're very pleased with the number of people who came out. It felt busier than ones we've held in the past. We hope to make it an annual event."
On ice since the onset of the COVID-19 pandemic the event returned as a way to recruit staff in the highly competitive world of health care.
"Our greatest need is in nursing, laboratory services and diagnostic imaging," Marshall explained, adding the hospital's overall vacancy is 12.5 per cent vacancy across the board ranging from clinical positions to housekeeping.
"It's very competitive," Marshall acknowledged. "It's always important to underscore that most people think about clinical jobs but there are many other jobs. We have every kind of position."
The CKHA is selective about the timing of the career fair syncing it to the schedules of post-secondary institutions. It's held after March break and college and university reading week, but before post-secondary students are done for the year.
Hospital recruiters also go out to speak to students training in health care, with Marshall noting the most successful path to recruitment comes when students complete a cooperative education placement at the hospital.
"We're very thankful for our relationship with these institutions," she said.
The CKHA currently has around 1,400 people on staff and is one of the largest employers in Chatham-Kent.