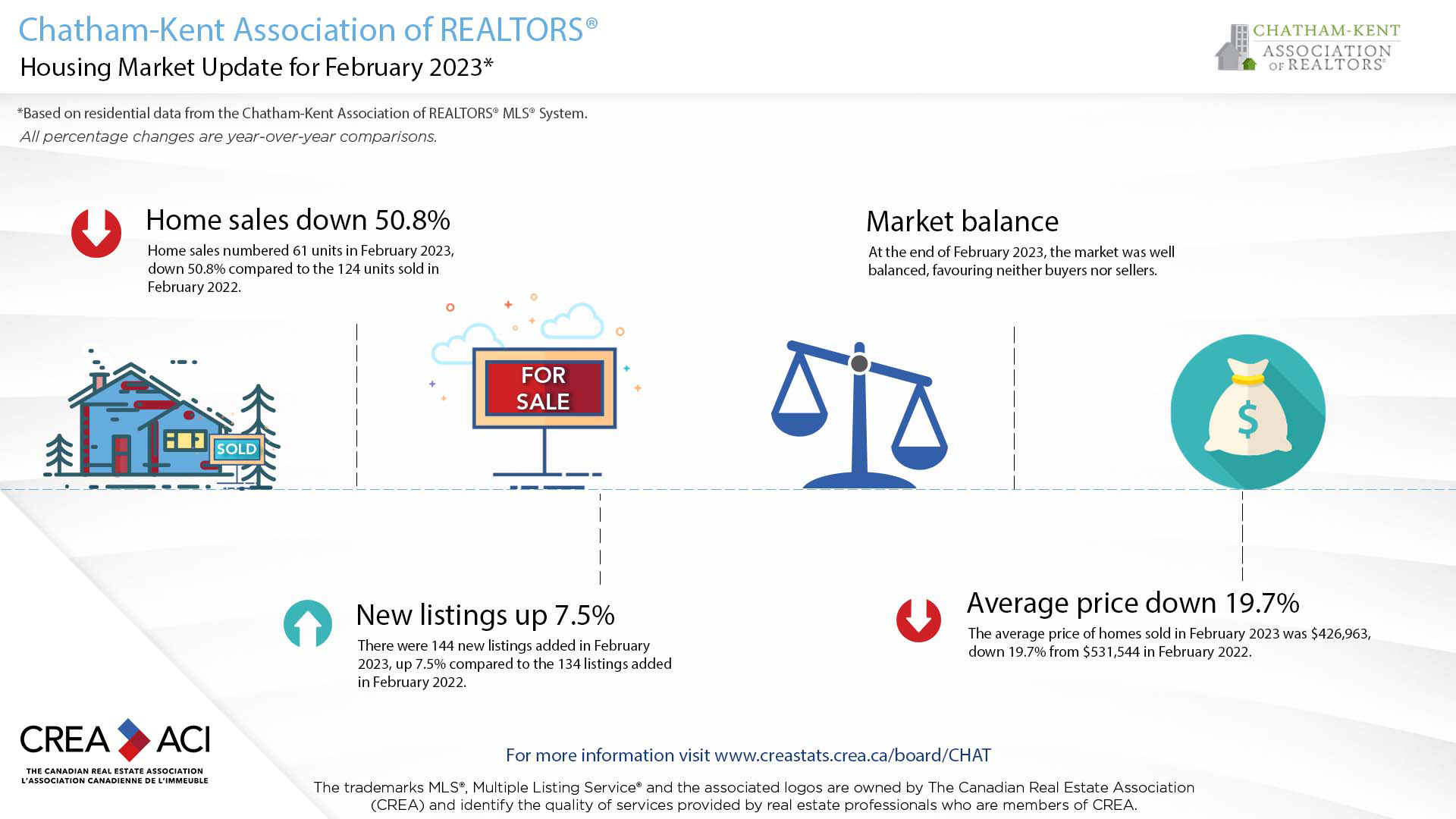 Property transactions in Chatham-Kent apparently saw their shadow in February, as they went into a slumber.
According to Chatham-Kent Association of Realtors (CKAR) figures, the number of homes sold totaled 61 units last month, down by more than 50 per cent from the same month a year ago.
Looking at the bigger picture, home sales were 31.6 per cent below the five-year average and 28.5 per cent below the 10-year average for the month of February.
So far, in the first two months of 2023, home sale are down nearly 48 per cent from January and February of 2022.
The good news is housing inventory is on the rise, Matt Bechard, president of CKAR, said.
"Home sales were trending below typical levels for this time of year and continue to decline on a monthly basis," he said in a media release. "New listings have rebounded from their previous lows and are now running above average, pushing overall supply up to levels unseen since the end of 2016. 
Bechard said the market is still correcting itself as buyers and sellers try to get on the same page.
"Given the imbalance between supply and demand at the moment, it may be the case that sellers have not yet fully adjusted to buyers' lower pricing expectations or affordability, in which case it may take another month or two before we start to see an upswing in sales activity," he said.
The average price of homes sold in February 2023 was $426,963, down nearly 20 per cent from February 2022.
Through the first two months of the year, the average price of a home sold was $414,980, a drop of almost 17 per cent from the first two months of 2022.
As mentioned, the number of new listings was up – by 7.5 per cent (10 listings) from February 2022. There were 144 new residential listings in February 2023. This was the largest number of new listings added in the month of February in more than five years.
New listings were 8.4 per cent above the five-year average and 11.7 per cent above the 10-year average for the month of February.
The number of active listings was 85 per cent above the five-year average for the month of February.