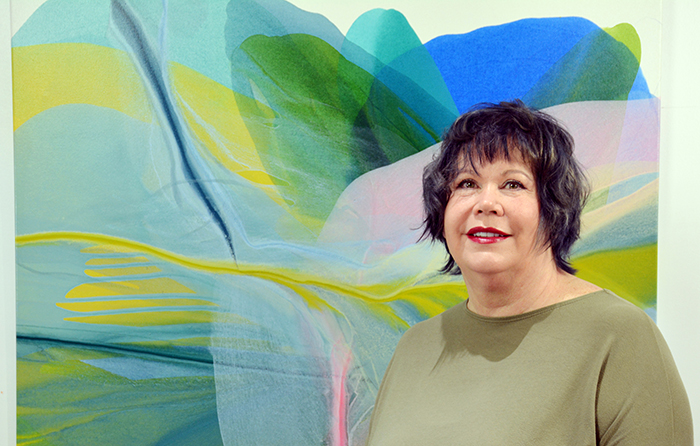 By Pam Wright
Local Journalism Initiative Reporter
Professional abstract artist Vicki McFarland hopes that giving away one of her paintings will bring happiness to its new owner.
On March 12, McFarland is taking part in International Art and Found Day, giving away a painting of hers titled, "Sweet Sunshine."
The artist said it's meant to "evoke joy" in whomever finds it.
"I think it's a great way to engage a broader audience," McFarland said in a recent interview with The Chatham Voice. "It's a way to reach people that may not be familiar with the art community."
McFarland's piece is valued at between $1,000 and $1,500. On March 12 beginning at 10 a.m., clues, through various social media channels, including CK Tourism, will be provided to sleuth out the painting's location, with tips posted on the artist's Instagram page @vickimcfarlandart.
Whoever discovers it will become its new owner.
More than 1,000 artists in 30-plus countries around the world are slated to take part in International Art and Found Day, McFarland said.
"Not everyone who loves art can afford to spend thousands of dollars on a piece of art, and this is a wonderful initiative that allow some to gain access to a piece of art without having to pay for it," the artist explained.
McFarland, a Union Gas retiree who moved back to Chatham-Kent a couple of years ago, now has the time to fully devote herself to art, although she's pursued the subject all her life as both a passion and secondary career.
Working full-time and raising three sons took up a lot of her time for a number of years, however, the artist managed to find time to work on her paintings.
Her vibrant and large canvas abstracts are now found in private collections as far away as Germany and Hong Kong, as well as being shown in galleries in Canada and the U.S.
Plus, the Dresden native has donated many of her works to charitable causes, such as Chatham-Kent Hospice.
McFarland, who had a recent show at Chatham's ARTspace called "The Colour of Emotion," has a unique style that features pouring paint.