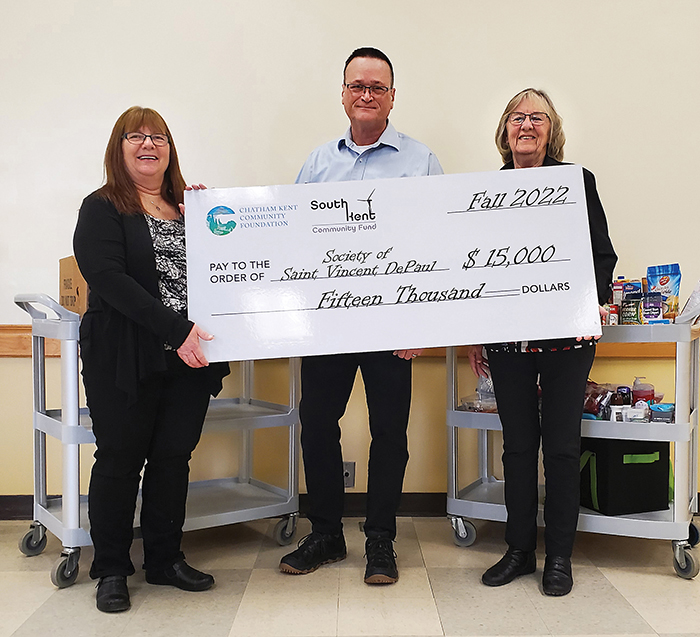 The Chatham Kent Community Foundation's $15,000 in support to the Society of Saint Vincent de Paul (SVDP) in Wallaceburg has proven to be a boon.
The funds, donated last fall to help fund the Wallaceburg Food Pantry program, helped SVDP serve the people of Wallaceburg and Walpole Island.
The grant was funded in part by the South Kent Wind Community Fund, which is a donor advised fund of the Chatham Kent Community Foundation.
SVDP runs the Food Pantry Program for those in need in the Wallaceburg and Walpole Island area. Families who need assistance are able to come once every 30 days for a box of non-perishable food and PC Gift Cards for perishable items.
In 2021 they assisted 472 families. Last year, that number rose to 654 families.
"Society of Saint Vincent de Paul received this generous grant at a time when we were making some difficult decisions about our Food Pantry Program. With the increase in the number of families requiring assistance and the ever-rising cost of food we are very concerned about having enough funds to sustain our program. This grant enabled us to keep our doors open in order to serve the many families in our community," said Kim VanDamme, treasurer, SVDP, in a media release.
"South Kent Wind is always proud to support great organizations, projects and charities in Chatham-Kent. The grant given to the SVDP food pantry is another fantastic program we are thrilled to support," said Kevin Aikenhead, facility manager, South Kent Wind.
The Chatham Kent Community Foundation is a broad-based, volunteer-driven, philanthropic organization creating, preserving and growing perpetual funds to help donors to have an everlasting impact on the development of the community through grants to registered charitable organizations.