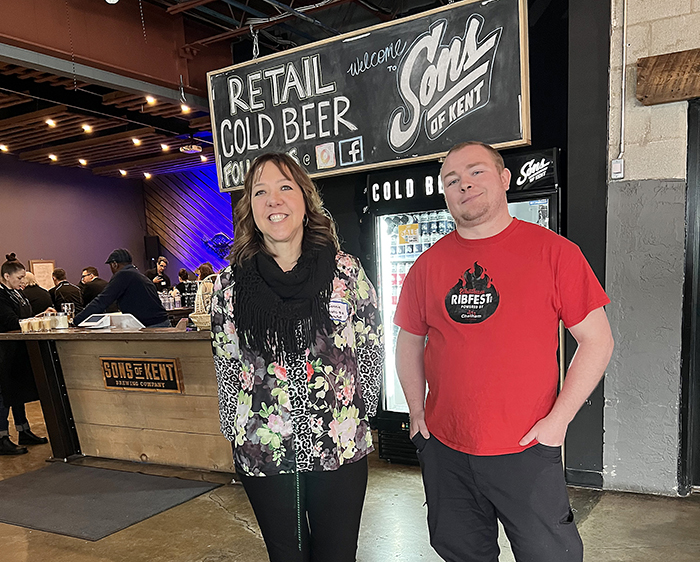 By Pam Wright
Local Journalism Initiative Reporter
Rims and Ribs 2023 is RetroFest and Ribfest blended with a twist.
The two popular Chatham events are coming together in a three-day extravaganza to be held May 26-28 in the city's core.
The joint effort is bringing some changes, including the cancellation of the Friday night classic car cruise – a fan favourite of vintage car buffs.
According to Connie Beneteau of the Historic Downtown Chatham BIA, Chatham-Kent police are unable to assist with traffic control and patrols so the cruise has been dropped.
During last year's RetroFest cruise, a tragedy occurred when two people were killed in a collision on Queen's Line.
"The Chatham-Kent police, for all of Chatham-Kent, will not facilitate the cruise," Beneteau explained at a media announcement last week. "Without their resources, it's not the safest direction to go.
"The BIA as part of the municipality has to respect that."
In response to the cancellation, Chatham-Kent Police Service Chief Gary Conn said police have shifted focus.
In an e-mailed statement, Conn said the service has changed from a traffic management approach to a traffic enforcement approach, due to the "increasing safety issues we have been observing at these events over the years."
According to Conn, event participants do not typically demonstrate negative behaviours jeopardizing everyone's safety, but "unfortunately, we must now assist event organizers in providing a safe environment for all persons/citizens attending these events."
The closing of Tecumseh Park for major sewer work starting on June 1 and running for the rest of the year is another reason the events were combined.
Beneteau said Ribfest, which is run by Wallaceburg's Chris Glassford, is normally held in July. Because Ribfest requires a lot of resources and space for big equipment, the park's closure spurred the decision to partner up.
"We've worked with Chris before," she said, adding he normally runs the beverage garden for RetroFest.
"So, we already had a partnership," Beneteau explained, adding it made sense to work together.
They decided Ribfest gets the park, with RetroFest getting the streets. Glassford will be co-ordinating the entertainment, including amusement park rides.
"If people can understand this is what we've done to accommodate both events for this year, then they'll get it," Beneteau said.
However, there's still an opportunity for car buffs to rub elbows on Friday night. A car party for "Old Gen and New Gen" will be held in the parking lot area behind Retro Suites Hotel near the Downtown Chatham Centre. It's open to classic cars (25 years and older) as well as newer model vehicles.
The car party, with limited spaces, will run from 3 p.m. to 7 pm.
Ribs, which is going country on Friday night, will run in Tecumseh Park from 3 p.m. to 11 p.m.
Karaoke is on tap. The All Nighters Band and The Chasers Band are scheduled to play.
Saturday's Rims will see streets in the downtown closed for the Classic Car show for the day, with awards presented at 3 p.m.
Ribs will feature a "Retro Rockin'" theme, opening at 11 a.m. Miss RetroFest will be on hand and rib judging will take place, along with a Sock Hop by BRIO. Scheduled bands include Spirit of the Sixties, the Courtney Wells Band and 89Next.
Rims will see all streets open Sunday except for William Street between Murray and Stanley for the annual Soap Box Derby.
A ticketed "Pit Party" featuring live bands will be held in the evening at Sons of Kent.
Over at Ribs, it's the "Alternatives" with a beer garden and rides. Rib awards will be presented and bands slated to perform include Sandbox, Jeremy's Rejects and Letterbomb.
Glassford said a couple of "mystery" celebrity guests are expected to be in attendance and their names will be announced when details are final.
This year's blended event is a trial run, Glassford said, but it could continue if there's support from the public.
"It's being really well received," Beneteau added, noting it will bring different groups of people downtown.