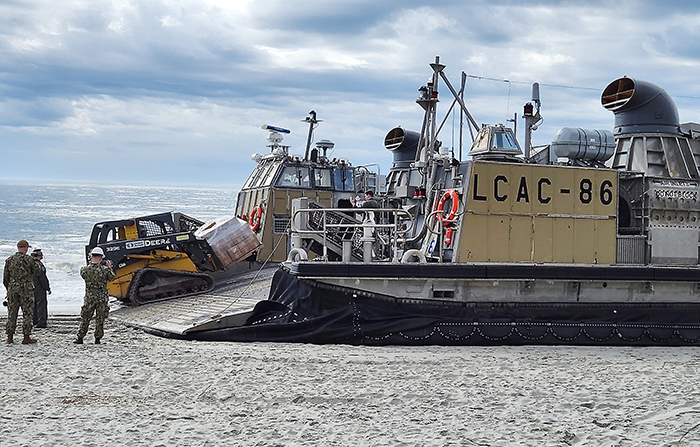 Area couple gets up-close view of spy balloon recovery effort
For the past 35 years, Larry and Cathy Landry have headed south for the winter, to Little River, South Carolina, to escape the cold of southwestern Ontario and enjoy some golf.
Being on the Intercoastal Waterway, it's a great place to relax and watch the boats go by. But earlier this month, the boat traffic increased, with many of them being all-grey, U.S. Navy vessels.
Larry said the U.S. Navy has used nearby Cherry Grove as a staging area for supplying its heavier ships dispatched to recover the remains of the Chinese spy balloon that was shot out of the sky Feb. 4.
They didn't see the balloon getting blown out of the sky, but Larry and Cathy, formerly of Chatham-Kent who now call Windsor home, have been curious onlookers in the aftermath.
"Where we live, it's just a few miles from here…one of the few entrances to the ocean (from the Intercoastal Waterway)," he explained. "What's been happening is the small boats – navy-type vessels – are up and down here all day long."
It's all part of the resupply effort for the larger vessels that operated about eight miles off the coast, salvaging the remains of the balloon.
Along with the Navy boats are Navy hovercraft. The Landrys have seen these come right up onto the beach to pick up supplies, and drop off some of what was recovered.
"One day, the whole bow was loaded with the balloon itself," Larry said.
The spy balloon was an estimated 200 feet in diameter.
"Today, we took a drive, and a big amphibious unit was starting to load up all the food," he said Feb. 15 of a large hovercraft gathering supplies.
Once it was loaded up, navy personnel advised everyone to clear the area. The engines spooled up and sand flew everywhere.
"The noise and vibration was shaking all the buildings in the area," Larry said of the hovercraft's departure.
The naval effort has certainly led to a lot of curiosity from vacationers and residents alike.
"Between golfing and watching the boats go by, this is how we spend our winter," Larry said.