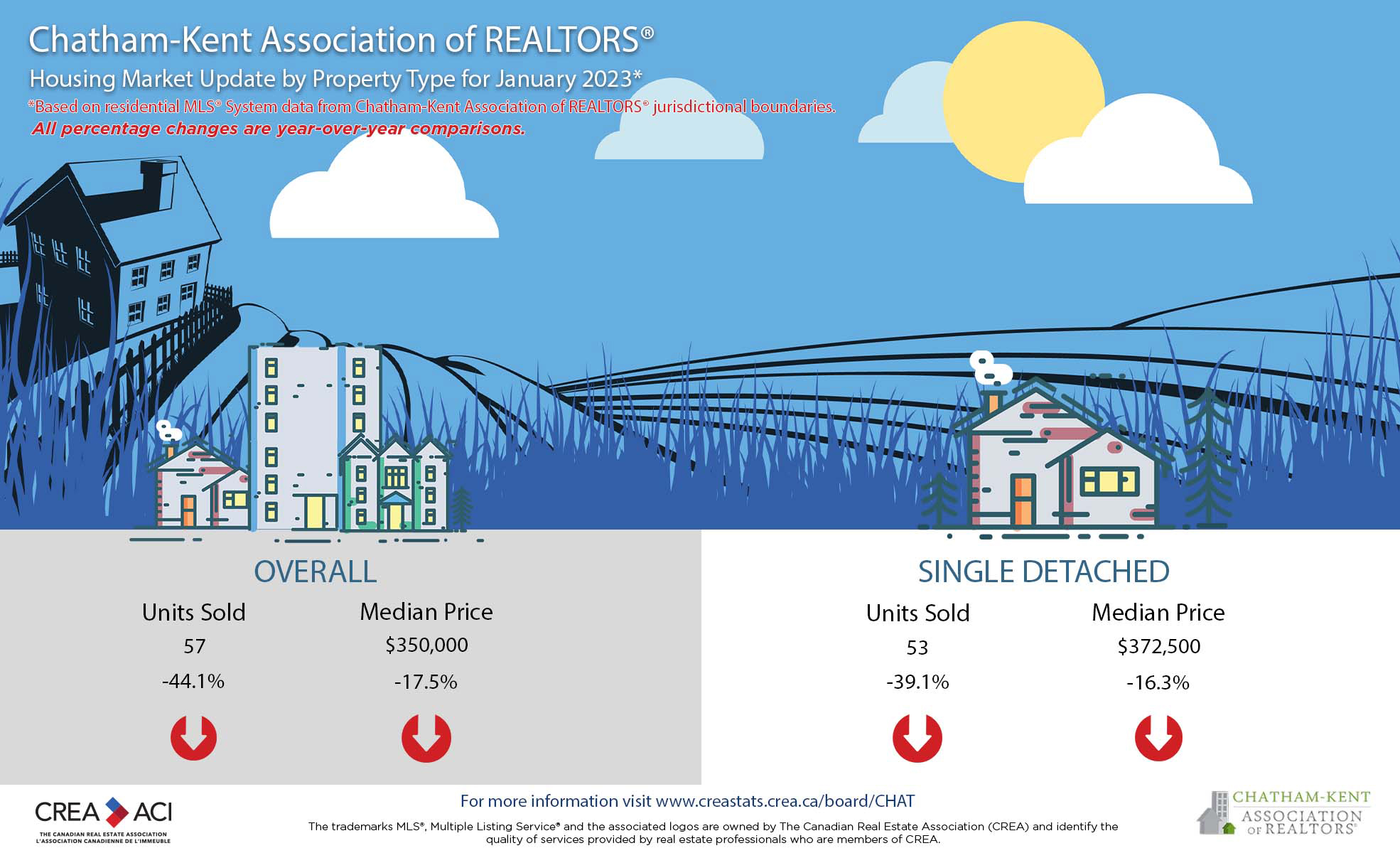 The real estate market in Chatham-Kent was ice cold in January, as just 57 units changed hands, a deep dip of more than 44 percent from January 2022.
Home sales were 34 per cent below the five-year average and 19.4 per cent below the 10-year average for the month of January
Matt Bechard, president of the Chatham-Kent Association of Realtors (CKAR), said January continued the trend established in the latter stages of 2022.
"Much to nobody's surprise we are starting 2023 off where 2022 finished, with sales activity remaining at historically subdued levels," he said in a media release. "It appears that the Bank of Canada may have topped out its interest rate increases for now, but there is still a lot of catching up to do in terms of absorbing the multiple rate hikes from last year. Given the climate of economic uncertainty and the time it will take for the impact of the rate hikes to fully pass through, it may be the case that we see a relatively more subdued spring uptick than we are used to seeing in the past."
The price buyers are paying for homes continues to drop as well. Bechard said the average price of homes sold in January 2023 was $402,156, a sharp decrease of 12 per cent from January 2022.
Bechard said one good sign from the market is the increase of available homes to purchase.
"Overall inventory levels have gained back a healthy amount of supply and the market is firmly positioned in favour of buyers, so the incentive for sidelined buyers to return is out there," he said.
The number of new listings saw a jump of 45.7 per cent from January 2022. There were 153 new residential listings in January 2023. This was the largest number of new listings added in the month of January in more than five years.
New listings were 38.8 per cent above the five-year average and 28 per cent above the 10-year average for the month of January.
Active residential listings numbered 284 units on the market at the end of January, rocketing up 323.9 per cent from the end of January 2022. Active listings haven't been this high in the month of January in more than five years.