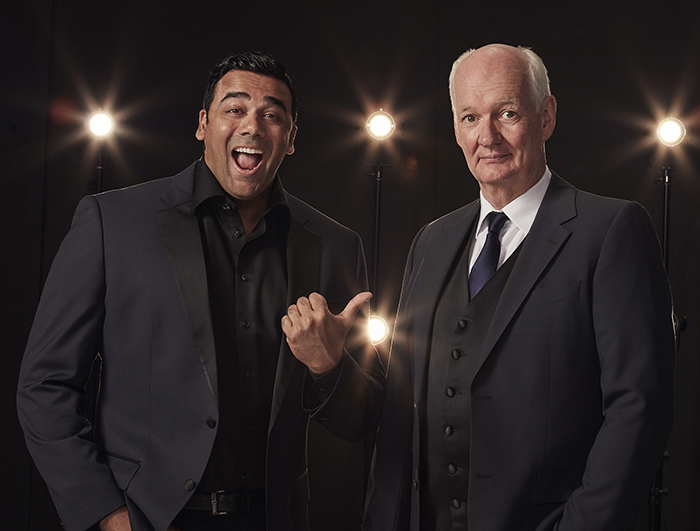 Basically anyone can be an improvisational comedian, according to Colin Mochrie and Asad Mecci.
All it takes is a little hypnosis.
The duo brings hilarity and audience participation to the Chatham Capitol Theatre Feb. 18 with the show Hyprov.
Think of a theatre full of potential improv comedians. Then narrow it down to 20, and then again cut it down to five.
Mochrie is an improv master who has performed with the likes of Robin Williams, Drew Carey, Wayne Brady and Ryan Stiles during his time on the popular television improv show "Whose Line is it Anyway?"
Mecci, in the meantime, has more than two decades of performing under his belt, doing comedy hypnosis and serving as a motivational coach.
It may seem like a strange pairing, but it works. They've been performing together since 2015. Mecci developed the idea and reached out to Mochrie. After meeting for coffee, they joined forces and took it for a test run at Second City in Toronto.
"We really didn't know what to expect, but it was great. The crowd was going bonkers," he said.
That was more than seven years ago.
And the show has evolved a great deal.
"We really didn't know how much they could do," Mochrie said of the people who get hypnotized. "I thought it was going to be me directing traffic and being sort of a puppet master, but they are contributing great ideas and making scenes work. It's exciting."
Mecci said one of the bits they do is a radio play – an old-school radio drama. Mochrie plays a police detective, and one of the audience members plays every other character involved that the detective interviews.
"There's always one volunteer that seems to be like the superstar in the show," Mecci said.
Of course, the audience provides the topic of the scene.
Mecci is the proverbial conductor of this comedic orchestra.
"When people are hypnotized, they just carry out their ideas," Mecci said. "Hyprovizers never hesitate, never say 'uh.' They just immediately react."
And they often are on par with Mochrie in terms of delivering the laughs.
"They're carrying out my suggestions without hesitations or suggestion. They're keeping up with Colin, which is hard."
The challenge for Mecci is to keep doing his job during performances.
"I have the front-row seat to the best improv show in the world. Half the time I have to push myself to remember where I am and try to focus," he said.
For two experienced performers, they are quick to admit they love doing the show in smaller communities, such as Chatham.
"The exciting thing about performing in small towns is everybody knows everyone. The audience recognizes that person on stage," Mecci said. "It just makes it so much more entertaining for the crowd, as soon as they know someone who is up on stage."
The two said audience participants come from all walks of life. Participation can be life changing as well.
"We had one woman who said she had crippling social anxiety," Mochrie said of a participant who chatted with them after one show. "She said 'it was the best hour of my life. I never felt so relaxed.' She wanted to start taking improv classes."
Mecci said the hypnosis is uplifting in a way.
"They just carry out my suggestions. It causes them to be free on stage."
Mochrie said Hyprov involves no mocking of audience members, unlike some hypnosis shows.
"We don't make fun of them. They're part of our improv group. They're there to perform," he said. "You'll never see us make them cluck like a chicken."
He added that when the hypnosis ends, they don't forget a thing.
"They're aware the entire time. It's just like everything Asad said sounded like a really good idea," he said.
Mochrie and Mecci spoke to The Chatham Voice just prior to the start of the Canadian Tour. Mochrie was finishing taping Whose Line is it Anyway in Los Angeles, while Mecci was in Chicago, preparing to head to Halifax where a sold out Light House Arts Centre was awaiting them.
They had also recently wrapped up a 70-show stay off Broadway and were well received by critics and fans alike.
Mecci calls Hyprov "the ultimate interactive comedy show."
Mochrie said it is also family friendly, although you do have to be 18 or older to get on stage.
Hyprov hits the Capitol on Feb. 18. To purchase tickets, visit CKtickets.com.