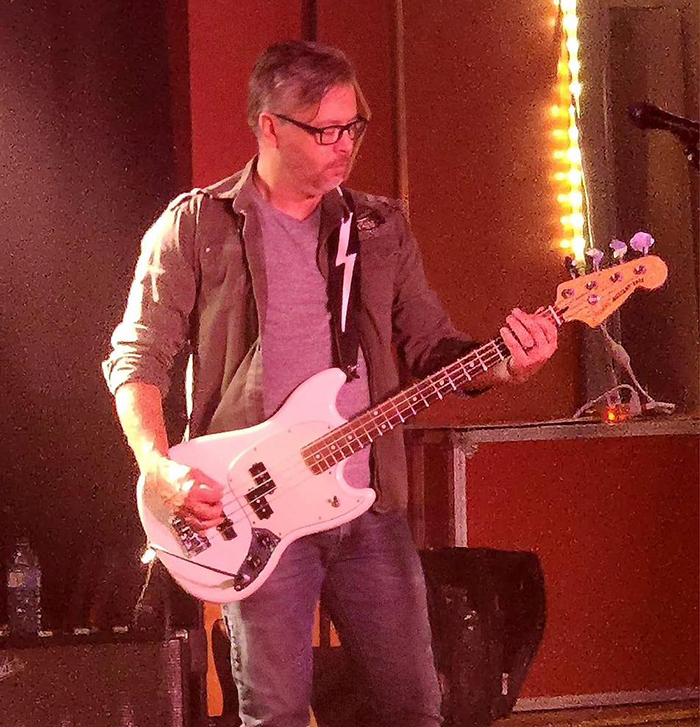 By Pam Wright
Local Journalism Initiative Reporter
Local Face4Radio band member Jesse Verleye is one popular guy.
After the 49-year-old Chatham musician was seriously injured in a head-on crash on Queen's Line Jan. 31, the community is stepping up in a big way to help its friend.
Verleye sustained serious injuries in the collision that claimed the life of a Windsor man.
Ki Larsen, owner of the Rawkin' RoyalT bar in Chatham, is Verleye's life-long friend, fellow musician and co-worker at Autoliv in Tilbury.
The two normally work the night shift together but didn't the day of the accident, as Larsen had changed shifts.
"Jesse was heading home after the midnight shift," Larsen explained, noting the accident occurred shortly before 7 a.m.
The quick response to Verleye's misfortune is fitting, he added.
"He's a really nice and well-liked guy," Larsen said of Verleye. The two have known each other for 36 years.
"That's why so many people are coming forward to help."
The Rawkin' RoyalT bar on King Street is currently accepting donations for Verleye until Tuesday. Gemini Road will play the bar tonight, and Bad Romance will take to the stage Saturday.
Larsen's partner and Rawkin' RoyalT co-owner Kellie Higgins agrees that Verleye is well liked and deserves the support.
"I really love how the community is coming together to help," Higgins said. "It's a beautiful thing when everybody pulls together."
Across the river at The Fortress bar on Grand Avenue, a Feb. 10 tribute show for Verleye called "A Night for Jesse," has already sold out. It will feature bands Face4Radio, Big Shiny Toons, Truckstop Super Friends, the Chasers and 89 Next.
Robin Lucio, who co-owns the Fortress with Wayne Caron, said she's not surprised by the way the community has come together for Verleye.
"He's super well liked," Lucio said, noting Face4Radio is a band that always lends a helping hand, playing various fundraisers over the years.
Now, it's Chatham's turn to give back.
"Jesse is on the road to recovery but it's not going to be quick," Lucio said.
Fellow Face4Radio bandmate and best friend Dave Richie said Verleye's support system is indeed amazing.
"It means a lot to us that so many people are stepping up to show their love and appreciation for him during this difficult time," Richie said. "He's the type of person who is so easy to connect with, either as a friend, work colleague or through his music, so it's truly heartwarming to see the support from everyone."