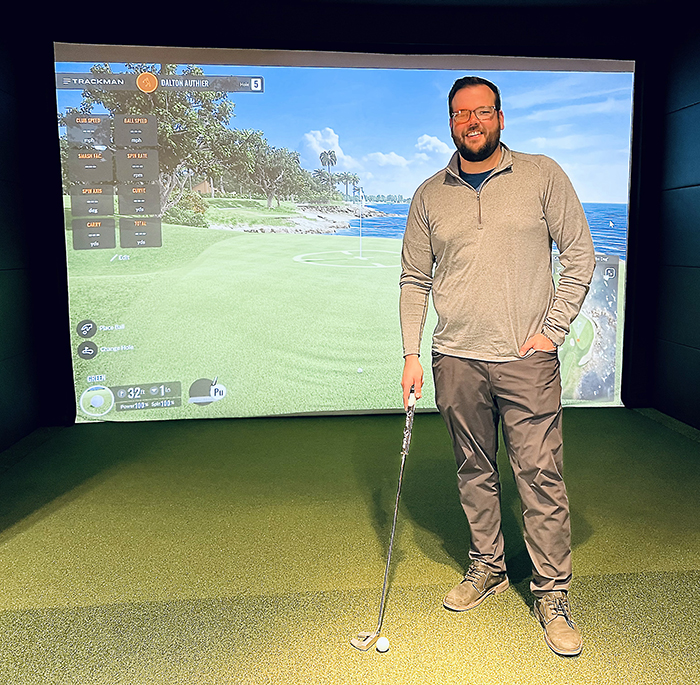 By Pam Wright
Local Journalism Initiative Reporter
The old adage "build it and they will come" is proving to be true for Par 72.
Based in Wallaceburg, the new indoor golf lounge provides golfers with the gold standard in golf simulation, allowing them to play the game regardless of what the weatherman says.
Owner Dalton Authier couldn't be happier with the response so far, even though he's been open for mere days. Interest is high, he explained, noting golfers are a special breed who will go to "any lengths" to play.
Authier considers himself to be among that group.
"I love the game," he said. "I'm not great at it…I just have a passion for it."
According to Authier, aficionados who have already popped by to check it out say Par 72 one of the best indoor golf spaces they've seen, comparable to locations in London, Windsor and beyond.
The new business, located at 400 Arnold St. in the former Windsor Factory Supply building, houses four simulation bays featuring Trackman 4 technology.
It's the software the pros use, Authier said, noting there's a selection of more than 200 golf courses to play, with new ones coming online all the time.
Trackman 4 also offers driving range capabilities and personal shot analysis, equipping players with knowledge they can use to improve their game.
Authier, who works in automobiles sales, said he got "hooked" on the game 11 years ago. He said the idea of starting Par 72 came to him because there was no place to play locally in the winter for folks not wanting to go out of town.
Plus, it's another amenity for a growing Wallaceburg.
"Wallaceburg is its on its way back, "Authier said. "People complain there is nothing to do, but I think it's time to change that mentality.
"There's something to do here. You don't have to leave town."
Authier said he hopes Par 72 will inspire others to consider opening up businesses in Wallaceburg.
Along with golf, Par 72 offers a kitchen and full bar, with Sons of Kent selections on tap, as well as a dartboard area, all infused with an industrial vibe.
"This used to be a warehouse," Authier said. "Why not embrace it?"
For more information or to book a tee time visit par72golf.ca or call 519-627-(4653) GOLF.