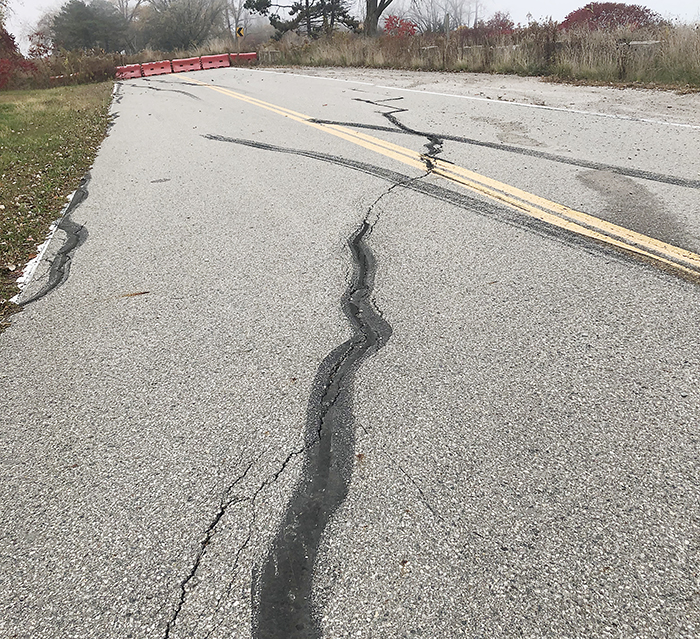 By Pam Wright
Local Journalism Initiative Reporter
After a lengthy discussion Jan. 16, Chatham-Kent council sorted through its collective confusion and chose Door Number Three regarding the Talbot Trail erosion issue at Coatsworth Road.
Council voted to reopen a small section of the road in the area skirting the Hacienda greenhouse complex, running from 2nd Concession Line to Stevenson Road.
As a result, the municipality accepted a downsized version of an environmental assessment, rather than the initial proposal to create a new stretch of roadway from 2nd Concession Line to Craford Road.
It was the third option presented and welcome news for homeowners and farmers along the affected route. Many have been up in arms over the municipality's plan to move a 30-kilometre section of Talbot inland by routing it through the middle of farmland. Close to 200 residents packed council chambers, with some having to watch the proceedings on a screen in a spillover room.
Four of the Talbot Trail residents, including a scientist, two engineers and a former judge, made deputations to council opposed to moving the road inland. Instead, they urged council to open the road at Coatsworth Road.
The deputations also suggested a number of shoreline erosion control measures that could be incorporated.
A petition supporting the action was also presented with more than 650 signatures.
South Kent Coun. Trevor Thompson said that even though he's the one that raised the issue, it's his number one priority to reopen Talbot Trail at Coatsworth "as quickly as possible."
Businesses and farmers have suffered because the section of the Talbot was closed, he stressed.
Thompson said he found it difficult to make a decision in the present that won't be realized within his lifetime.
The original recommendation for creating a new Talbot Trail from 2nd Concession Line to Craford Road wouldn't happen until far in the future, anywhere from 50 to 100 years from now.
South Kent Coun. Ryan Doyle, said after meeting and getting to know constituents, he could support the re-opening of Talbot Trail at Coatsworth, but not the idea of moving Talbot Trail inland.
"With regards to the second phase of this, I have to vote with my constituents and I can't support it," Doyle said.
Council's final decision was met with applause.
Farmer and woodlot owner John Mann, who made one of the deputations, said that council made a "great decision," however, he wished the first phase could have been dropped as well.
"That was a more difficult decision," Mann said after the meeting, noting it was important to recognize the "leadership and courage shown by our councillors.
"I was very proud of them," he added. "Everyone east of Stevenson (Road) is celebrating this terrific outcome. This decision also gives us the time we need to be able to move forward with dealing with the lake in a responsible and effective way."
But climate change still looms. A coastal engineering expert told council that climate change will continue to impact the shoreline, no matter what decision is made.
As part of his presentation to council, BT Engineering president Steve Taylor, said "big" climate change movements are expected over the next 100 years that will include an "accelerated loss of land."
Taylor cited a number of climate change markers including loss of ice on Lake Erie and the increased ferocity of storms.
Taylor urged council to adopt the entire environment assessment presented, noting that future councils could make a decision on moving the road inland when necessary.
However, because council rejected accepting an environmental assessment for the entire area, the municipality does not have a mechanism in place to stop future development in erosion-prone areas.
A 60-day public consultation period will now be held before further steps, which could include property acquisition, can be taken.
It will also cost the municipality an additional $20,000 to update the change to the environmental assessment on top of the $400,000 that's already been spent.
A portion of Talbot Trail near Coatsworth Road was closed by the municipality in 2019 because erosion threatened the integrity of the highway. Plans to move Talbot Trail further inland was perceived by council to be a viable way to deal with future erosion of the shoreline.
Formerly a provincial highway, the responsibility for Talbot Trail was downloaded onto Chatham-Kent in 1990s. In 2010, the municipality had to build a $200,000 bypass in the Coatsworth area after erosion caused a major crack in the highway.
Chris Thibert, acting general manager of engineering and infrastructure, said that if all goes well, work on reopening the road would start in 2024.