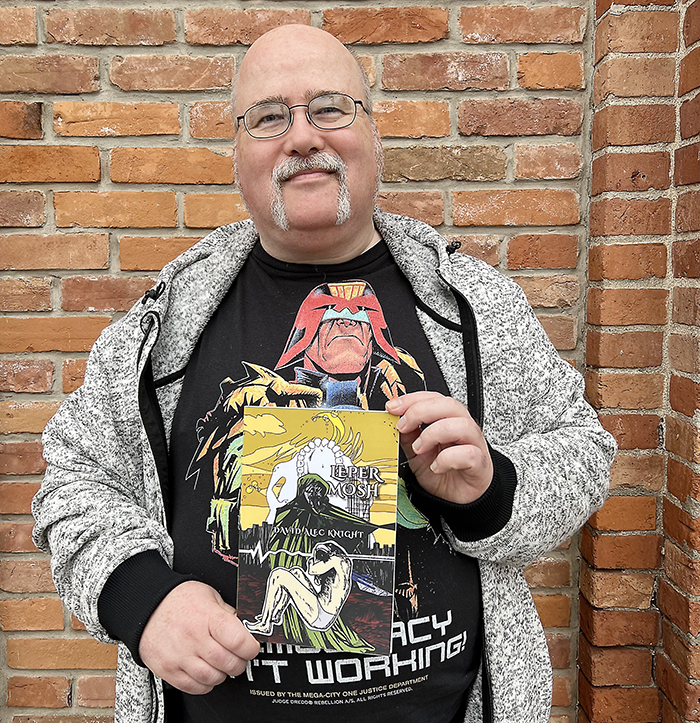 By Pam Wright
Local Journalism Initiative Reporter
When it comes to writing, David Knight believes you have to examine both the dark and the light.
"You can't appreciate one without the other," the Chatham poet said in a recent interview. "I try to write things that are relatable. I try to think of the audience…it isn't just about me. A lot of it is autobiographical."
Knight's poetry, reflective of the issues of everyday life, touches on subjects such as parenting, relationships, and even neurodivergence.
The author of two books of poetry, including The Heart is a Hollow Organ and the newly released Leper Mosh, said he sticks to working-class themes, staying away from writing prose that's "too academic."
His approach is working. With more time available during the pandemic, Knight joined the Ontario Poetry Society and received the Ted Plantos Memorial Award for Poetry 2021.
Earlier in his life, Knight attended a series of workshops at the Chatham Public Library where Toronto poet Plantos was a writer-in-residence.
"Receiving an award in his name for my poetry was a great accomplishment, and of acknowledgement from literary peers," Knight said. The Heart is a Hollow Organ came soon after.
Knight followed it up with Leper Mosh, which was released on Amazon in October.
Knight's latest book features some coming of age themes relating to growing up in the '80s and '90s.
"The book will probably appeal to fans of Stranger Things," Knight jokes, noting it makes reference to popular bands of the day, including Metallica.
Knight, who works as a PSW full-time, believes the COVID-19 experience made everyone "more introspective."
While it allowed him more time to write, Knight said the pandemic made people feel far more isolated.
A native of Chatham, Knight credits his love of writing to Bernard Cameron, his English teacher at Chatham-Kent Secondary School.
"He was very helpful in helping me find my voice," he added.
Knight went on to study Creative Writing and Literature at the University of Windsor. He came back to Chatham and completed the PSW program at St. Clair College.
In addition to his day job, Knight said he plans to keep writing "relatable" poetry.
"It's something I love to do outside of work," he said.