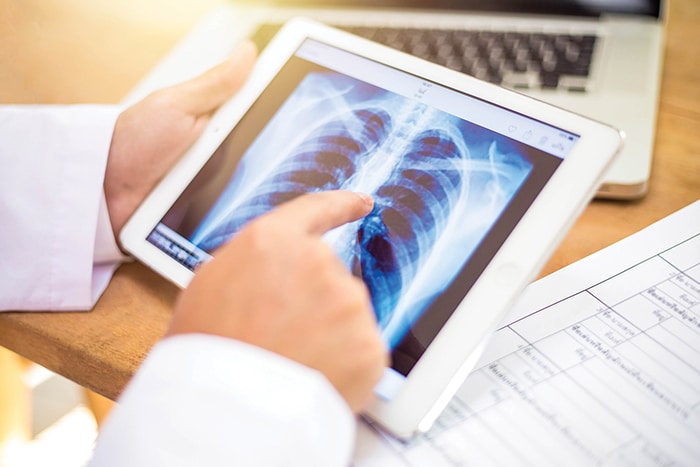 By Pam Wright
Local Journalism Initiative Reporter
The bad news is that respiratory illnesses are back with a vengeance.
The good news is, there's more help available.
The mandate of the Chatham-Kent Health Alliance COVID-19 clinic and assessment centre has been expanded and will now treat colds and other respiratory flu-like illnesses.
In keeping with an Ontario health directive, the centre has been renamed the Chatham-Kent COVID, Cold and Flu Care Clinic.
The goal is to serve Chatham-Kent residents who don't have a primary care physician –  about 20 per cent of the local population – and to ease pressure on emergency departments.
According to clinic director Dr. Briana Providence, there's been a significant uptick in respiratory illness this fall, not only in Chatham-Kent, but across North America.
Youngsters are being especially hard hit, Providence added.
"We're seeing this in children," she said, noting many youngsters were not exposed to respiratory illness during the pandemic isolation, as everyone was practicing safety protocols.
"Now that we're kind of back to pre-COVID times, children are being exposed to viruses they haven't seen before," Providence explained. "They are sometimes being hit with more than one illness at a time."
Influenza, RSV (respiratory syncytial virus) and COVID-19 pose a triple threat which can be underestimated.
Although it doesn't affect everyone to the same degree, respiratory illness can be life-threatening for some.
"There is a small number of individuals that can have severe outcomes," Providence said, noting immunization can play a role in lessening the impact of respiratory illness.
"We recommend getting vaccinations," Providence stressed, noting both COVID-19 and influenza shots are available for everyone, including children under five years of age.
"The vaccines are safe," she said.
However, people who are unsure about the shot are advised to connect with a health-care provider to discuss concerns.
As to what impact COVID-19 is currently having locally, Providence said it's hard to tell, as there is no formal testing.
The Chatham-Kent COVID, Cold, and Flu Care Clinic is located at 10 Grand Ave. W. in Chatham (in the 7-Eleven plaza). It's open Monday, Wednesday, Friday and Saturday from 9 a.m. to 5 p.m. An appointment is required and can be made online at www.assessmentbooking.ca or by calling 519-436-2556.
Some symptoms of COVID-19 or other cold and flu-like illnesses include:
Fever or chills, cough (not related to other causes such as allergies), decrease or loss of taste or smell, runny nose or nasal congestion, headache, extreme tiredness, sore throat, muscle aches or joint pain, gastrointestinal symptoms such as vomiting or diarrhea, abdominal pain, and pink eye.
COVID-19 PCR tests are available at the centre