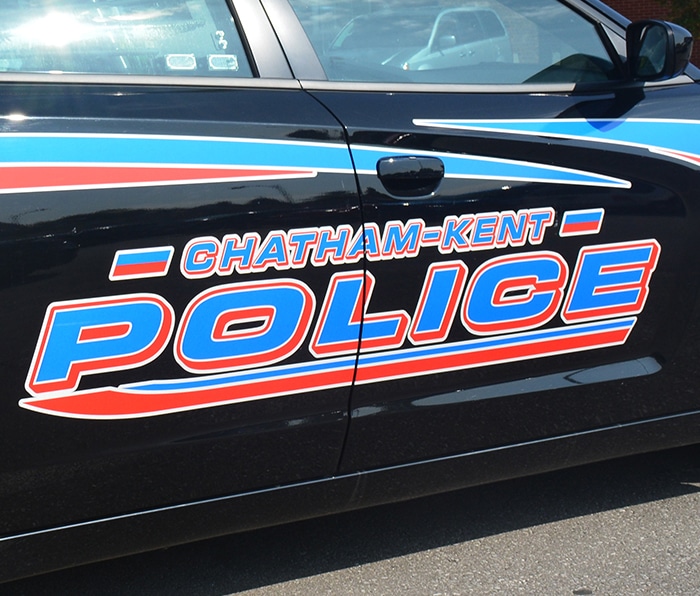 Collision leads to impaired charge
A Chatham man is facing impaired driving following a crash Tuesday evening.
Emergency crews responded to a call on Longwoods Road about 6:45 p.m.
Through investigation, Chatham-Kent police believed the driver was operating the vehicle while under the influence of alcohol and arrested him.
A 27-year-old Chatham man is charged with having a blood alcohol concentration exceeding the legal limit.
Warrants
At 9:29 p.m. Tuesday evening, police responded to a disturbance at a Bruce Street residence in Wallaceburg.
Upon arrival, the officers located two men who were wanted on outstanding warrants, and they were both arrested.
Upon a search, incident to arrest, one man, bound by a weapons and ammunition prohibition order, was found in possession of ammunition.
A 36-year-old Walpole Island man was arrested on an outstanding warrant related to weapons and bail violations. He was transported to police headquarters and held pending a bail hearing.
A 38-year-old Walpole Island man was arrested on outstanding warrants held by CKPS and Ontario Provincial Police (OPP). He was also charged with possessing ammunition contrary to a prohibition order. He was transported to police headquarters and released to the OPP with conditions and a future court date.
Failing to attend
At 10 a.m. Tuesday morning, a woman attended the Chatham-Kent Police Wallaceburg station and turned herself in to the police.
The 30-year-old Dresden woman was wanted for failing to attend court. She was arrested and released with a future court date.