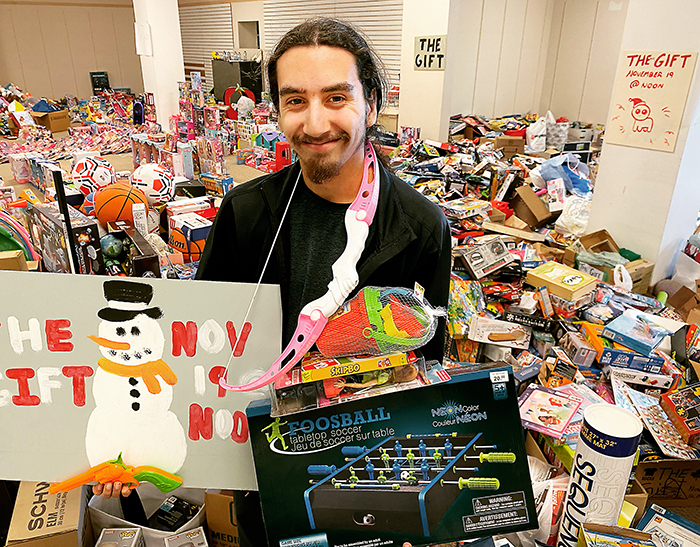 Even after three iterations of The Gift, organizer Brent Wilken continues to be amazed at the giving nature of the people of Chatham-Kent.
"It was amazing. I was just blown away by the community," he said of the Nov. 19 event where volunteers went down streets across the municipality, gathering donations of toys and food left on front porches by local residents.
"This was a whole new level of working together," Wilken added.
He estimated upwards of 2,000 volunteers took part in the gathering of items.
There were depots set up in communities across the municipality, making quantifying exactly what was donated difficult, Wilken said,
The laid back approach also made it hard to pinpoint how many volunteers were part of the day.
"At least half of the volunteers didn't sign up. For example in Erieau, two volunteers signed up and they had 40 turn out."
Volunteers come from all walks of life, Wilken said, including those in need.
"We had a homeless individual who volunteered on Saturday. She worked her butt off," he said.
Wilken said of the goods donated, it appears there is a decent blend of needed items.
"It was a good mix. We were short on items for teens, but otherwise it was great," he said. "It seems like a healthy mix between toys, food and hygiene stuff, good for a complete Christmas."
There are gaps, however, but the sharing nature of The Gift helps minimize them.
"It's hard to quantify with so many drop locations, and many communities self manage. Blenheim managers Blenheim, for example," he said. "We try to communicate and work together as much as possible. If one area is short on something and another has a surplus, there is sharing. We just communicate the need and it ends up happening."
Being on hand during the drop offs was humbling, Wilken said,
"There were hundreds of cars with trunks jammed full. Each bag – someone clearly thought of an individual," he said. "One might be for a 90-year-old woman, for example."
The Gift set up shop inside the former Sears building. Wilken said the allotted floor space went from empty to full in about two hours, as upwards of 100 volunteers helped empty the arriving vehicles.
In the coming days, the process shifts from gathering to delivering. Wilken said the focus is on identifying who can benefit and helping them access needed items.
"Who do you know that is in need that is not going to get help otherwise? You can come here and get it for them, or you can get them here and they can choose," he said. "It's all about getting the job done."
Wilken discounts critics who say The Gift is open to abuse.
"It's just not the environment to abuse. It's an environment to work together," he said, adding each person comes in and has, in essence, a personal shopper with them.
"Does abuse still happen? I guess it's possible, but it's not a free-for-all. Each person gets that individual attention."
Wilken said he's seen people search out the perfect gift for their child, sometimes perusing items for up to two hours to select items.
"It's for a loved one. They'll spend a ton of time doing it. You just know when they leave here, the item is likely to be cherished," he said.
At the end of the day, Wilken said The Gift is an extension of what C-K is all about.
"I think we are all realizing that it's pretty amazing what Chatham-Kent residents can accomplish. And that is pretty darned wicked," he said with a laugh. "We are so blessed to live in such an amazing community."