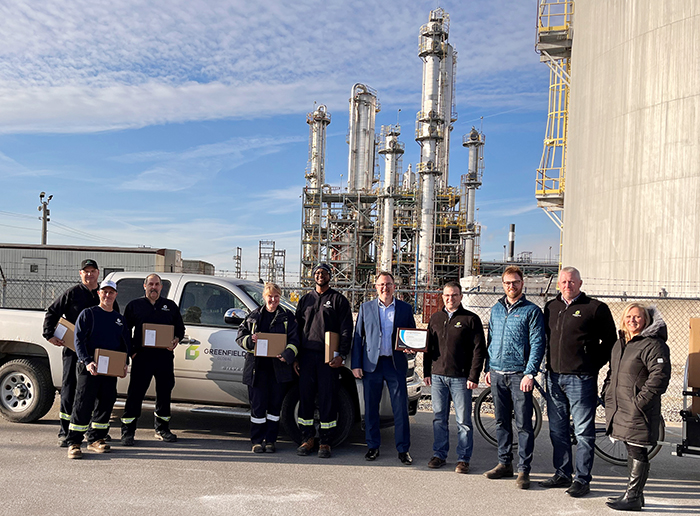 Twenty-five years down and at least another 25 to go.
That's the mindset of Greenfield Global's Veselin Nikolov. He's the plant manager for Greenfield's Chatham operation, which just celebrated its 25th anniversary.
For two and a half decades, the plant has produced ethyl alcohol from corn.
"We have a good program in place here. The plan is to continue to invest and grow the plant," he said. "I am very proud of the place I work. It's a great environment for nurturing people. And safety is the most important component."
Greenfield employs more than 80 people at its Chatham plant. Each received a custom-made gift last week from local wood artisan Devin Schaffner to commemorate the 25th anniversary.
These days, the focus is on high-grade alcohol, suitable for beverages and pharmaceuticals, Nikolov said.
Their alcohol has been used in Crystal Skull vodka, for example. In fact, Greenfield works with more than 700 distillers and bottlers around the world.
Nikolov said in recent years, the output is about 70 per cent earmarked for the beverage and pharmaceutical industries and the other 30 per cent goes into ethanol for fuel. He'd like to see the ratio reach 90-10 in the future.
As well, the focus is on high-quality output with a reduced carbon footprint. Since 2017, Greenfield has teamed up with Truly Green greenhouses on the other side of Bloomfield Road to exchange heat and carbon dioxide.
"We try to be a good corporate citizen and support the local community. We work to have less impact on the environment," he said.
Greenfield and Truly Green are still perfecting the process.
"It's really challenging. Being innovative and having something absolutely unique," Nikolov said. "It works, but we've had to shut it down to make improvements. Hopefully 2023 will be the year everything will run well."
Excess heat and carbon dioxide head to Truly Green from Greenfield. Nikolov said what heads to Truly Green is low-grade heat, a byproduct of the fermentation process.
"Normally, it's vented through the stack. There's nothing we can do with it, but it's perfect for Truly Green and growing tomatoes," he said.
Truly Green sends cold water to Greenfield, which in turn heats the water and sends it back.
"The water harvests the heat and it goes back to Truly Green. It's an uninterrupted loop," Nikolov said.