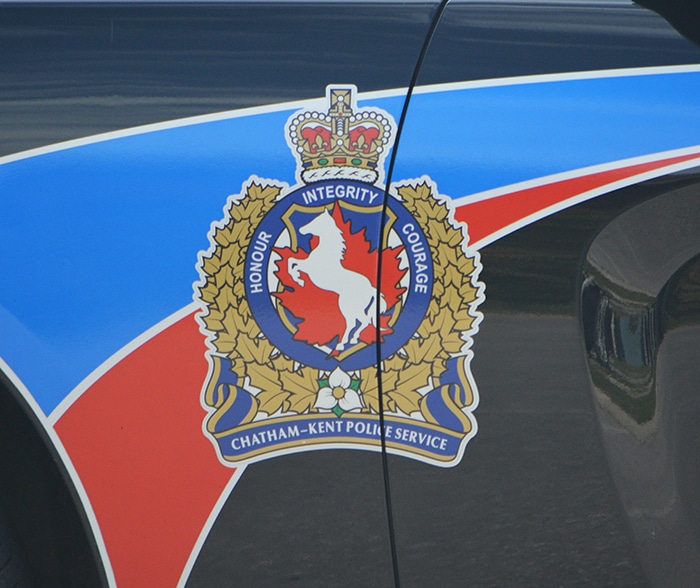 Assault charge
A domestic dispute turned violent Sunday, and a Dresden man is facing charges.
At about 1 p.m., Chatham-Kent police responded to Westcourt Boulevard in Wallaceburg for a disturbance.
Through investigation, police learned the man and the woman engaged in a verbal argument. The argument escalated when the man struck the woman in the face, causing injury.
A 38-year-old Dresden man was located and arrested. He was charged with one count of assault and transported to police headquarters.
Warrant arrest
Homeowners may not have wanted a specific visitor Sunday night, but police had a different opinion.
They got the call shortly after 9:30 p.m. to attend a Stanley Street residence in Chatham for an unwanted person. The woman was not welcome at the home, police say.
However, the woman was wanted on an outstanding DNA warrant. Police arrived and found the woman nearby.
A 28-year-old Chatham woman was arrested and transported to police headquarters. The warrant was satisfied, and she was released unconditionally.
Attempted vehicle thefts
Thieves escaped empty handed this morning, as two men tried to steal a pair of vehicles from a Thamesville residence.
Police say the incident took place before 5 a.m. on Sherman Street in Thamesville. The suspects, believed to be two men wearing camo or patterned jackets, were interrupted by the homeowners and fled the area.
In both incidents, a window and the ignition were damaged.
Anyone with information to assist with these investigations is asked to contact Const. Tyler Bergsma at tylerb@chatham-kent.ca or 519-436-6600. Anonymous callers may call Crime Stoppers at 1-800-222-TIPS (8477) and may be eligible for a cash reward.