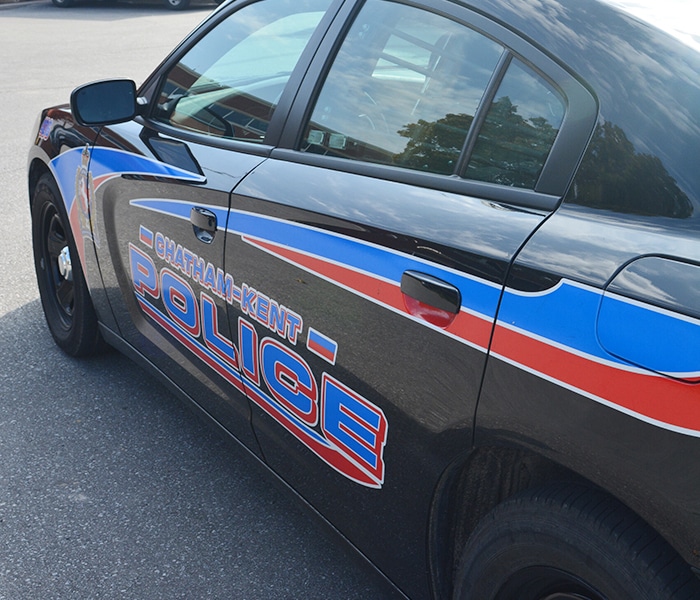 Assault with a weapon
Chatham-Kent police arrested a Tilbury man Friday wanted in connection with an incident the day prior.
Police say late Thursday afternoon, they responded to a neighbour dispute in Tilbury. At that time, police learned that a verbal argument between the men, regarding a traffic-related complaint, escalated into one of the men lunging towards his neighbour in a threatening manner, while in possession of a knife.   The man left the area prior to police arrival.
On Friday, officers arrested a 66-year-old Tilbury man. He is charged with assault with a weapon.  
Elderly woman clipped by car
On Friday morning, emergency personnel responded to a motor vehicle collision at the intersection of Keil Drive and Grand Avenue in Chatham.  
The driver was turning onto Keil Drive when she failed to yield the right of way to a pedestrian crossing Grand Avenue, police say.
The pedestrian, an 84-year-old Dover Township woman, was transported to hospital with non-life-threatening injuries.  
The driver, an 86-year-old Chatham woman, was not physically injured, and is charged with making a turn not in safety.
Warrant arrests
Early Saturday morning, police responded to a possible break and enter in progress at a storage facility in Chatham.  
Upon police arrival, officers located a man and woman, who were accessing a storage unit belonging to the woman and determined that they were not engaged in illegal activity.  
Further investigation did, however, reveal that both were currently wanted on outstanding warrants.  
A 26-year-old Chatham woman and a 27-year-old Chatham man were both arrested and released pending a future court date.