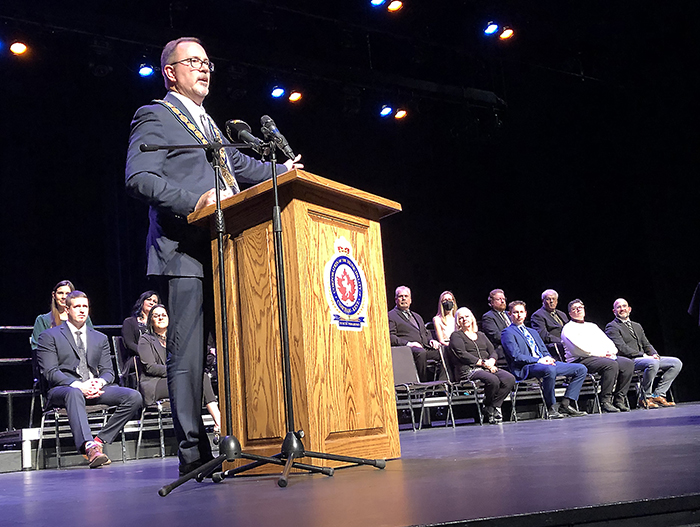 By Pam Wright
Local Journalism Initiative Reporter
A new era of municipal government was ushered in Nov. 15 following the inauguration of the 2023-2026 Chatham-Kent council.
Held at the Capitol Theatre, the ceremony saw five new councillors take the official oath, along with 13 others who were returned to office.
Mayor Darrin Canniff, at the helm for his second term, said there's plenty to look forward to in the next four years.
"I want to start with how thrilled I am to be working with these 17 people," Canniff said in his inaugural address. "They love the community. We are set up for success."
Conor Allin, Lauren Anderson, Ryan Doyle, Rhonda Jubenville and Alysson Storey are the new faces joining veteran councillors Michael Bondy, Anthony Ceccacci, Marjorie Crew, Amy Finn, Aaron Hall, Melissa Harrigan, Jamie McGrail, Brock McGregor, Carmen McGregor, Steve Pinsonneault, Trevor Thompson and John Wright.
It won't take long for the work to begin. Council was expected to meet face to face at the Chatham Civic Centre Monday for the first in-person meeting since March 2020.
First up on the agenda are the consideration of a five-year agreement to bring an intercounty professional baseball team here and the establishment of a public art policy.
Canniff told the gathering that growth is on the horizon for Chatham-Kent, with many companies choosing to set up shop in the municipality and more looking to do so.
A vibrant agri-business community, good weather and great people are among the reasons people are drawn to Chatham-Kent, he explained.
Canniff said people who move here are "blown away" by the people of Chatham-Kent.
"That is our biggest asset," he stressed. "We celebrate diversity here. I want a culture here, that we accept people for whoever they are. That's what we're striving for. If we move together, we can make a fantastic community."
Adding amenities, increasing the number of public and private partnerships and addressing the need for affordable housing are other issues high on council's to-do list.
"There are huge opportunities to create an environment where people want to move here and stay here, Canniff noted, adding he wants his children and grandchildren to choose Chatham-Kent.
However, he said municipal government needs the public's help.
"The 17 councillors and myself can't do it alone," Canniff added. "We need help from everybody."
The mayor urged residents to support events, volunteer, join a board or make a donation.
"Do whatever you can," he added.
Justice of the Peace Calvin Hurst officiated over the swearing in ceremony.