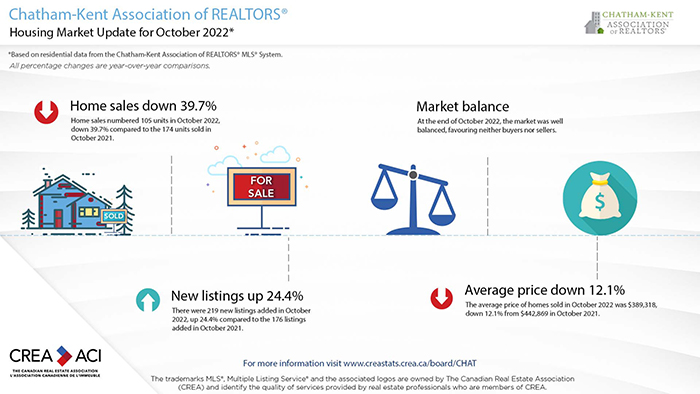 Home sales in Chatham-Kent continue to cool this fall.
The Chatham-Kent Association of Realtors (CKAR) recently released its October numbers, with sales and home prices dipping compared to the same month a year ago.
This past October, 105 homes changed hands, down nearly 40 per cent from a year ago and nearly 22 per cent off the five year average.
The 105 units sold was even more than 12 per cent below the 10-year average.
It's a continuing trend from late summer, as to date this year, sales are down about 24 per cent compared to the same period last year.
"Looking through the monthly seasonal trends, home sales appear to have stabilized at lower levels since bottoming out in June earlier this year. Year-over-year gains will continue to be outsized as we compare current subdued activity to record-high levels from 2021," Amber Pinsonneault, president of CKAR, said in a news release.
The average price of homes sold in October 2022 was $389,318, falling 12.1 per cent from October 2021.
However, the slowdown has padded the number of homes on the market, good news for buyers.
"New listings are trending at some of the highest levels in history. Combined with lower demand, this is providing some much-needed relief to formerly depleted inventories, which are now back up to levels not seen since the autumn of 2016," Pinsonneault said.
The number of new listings saw an increase of 24.4 per cent from October 2021. There were 219 new residential listings in October. This was the largest number of new listings added in the month of October in more than a decade.
New listings were 26.7 per cent above the five-year average and 26.5 per cent above the 10-year average for the month of October.
Active residential listings numbered 386 units on the market at the end of October, more than double the levels from a year earlier, leaping nearly 126 per cent from the end of October 2021. Active listings haven't been this high in the month of October in more than five years.