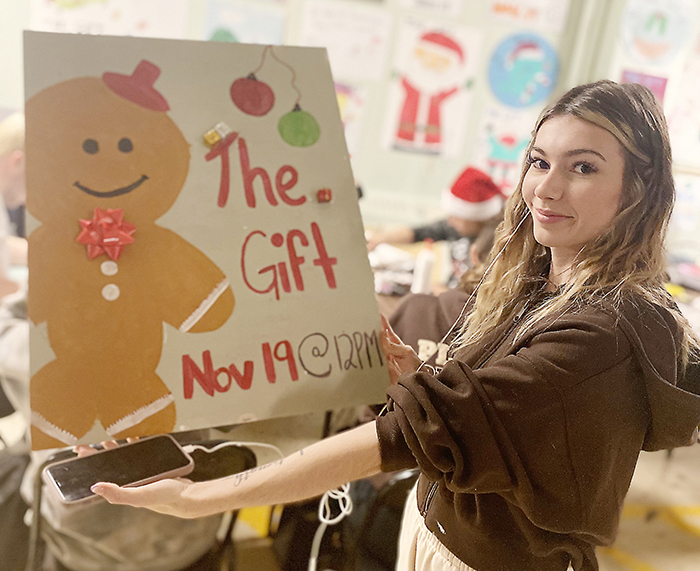 By Pam Wright
Local Journalism Initiative Reporter
As it heads into its third year, The Gift has a new twist.
The mega food, toy, gift and fundraising drive taking place Nov. 19 is adding a few moves to its repertoire.
As in past years, participants are being asked to put out a donation at noon for pickup, but this year, people across Chatham-Kent are also being invited to showcase their dance moves.
The idea took off last year and spawned the likes of the 'The Wheatley Wave,' The Shrewsbury Snorkel' and the 'Blenheim Happy Elf,' among others.
Greg Simpson, co-owner of Ascension Dance in Chatham, is leading the Gift Dance, and he'll be posting an edited video compilation of Gift folks busting a move after the Nov. 19 event.
"With The Gift, Chatham-Kent has shown what giving can do for all of us when it's done in its purest form," Simpson said, adding "there's no better way to come together, than to move together."
Every community will have its own simple, inclusive dance move. Participants can record anyone, anywhere in their community with the designated move and submit it to compilations at ascension.ca/thegift. Tutorials are available online and last year's dances can be viewed as well.
That's not the only change for The Gift, as Madison Hetherington has taken on the role of marketing lead. Hetherington said she's stepping up her involvement because The Gift is special and it shows "what C-K can do" by coming together to fill a need.
She calls The Gift a "super simple idea that has a lot of impact.
"It's all about increasing the impact and increasing the number of lives we can touch," Hetherington explained.
The volunteer-driven campaign reaches every corner of the municipality and provides help for all, with a focus on inclusivity.
A wide range of items can be gifted. Food, toys, games, and personal items are among the items, with organizers emphasizing that heartfelt donations are best.
These are then stored at various donated depots, sorted by volunteers and distributed according to need.
People can choose the role they want to serve in and what gift they want to give. Roles such as community captains are decided democratically.
According to co-organizer Brent Wilken, who helps head up Come Together CK and the Community Shop, there is "no authority from the organizing committee over any area.
"The Gift has no goals as it is what the people involved make it," Wilken said. "The Gift belongs to us all. The Gift is inside us all."
The Gift was patterned after the success of the May 16 Miracle food drive in 2020. It has evolved into a full-on grassroots initiative, involving thousands of volunteers and a record number of donations. The Community Shop, which provides a wide range of activities to all regardless of circumstance, came to be after donations were stored at space donated by the owners of the Downtown Chatham Centre, and volunteers gathered there.
Anyone wanting to be a part of The Gift can register at thegiftck.ca.