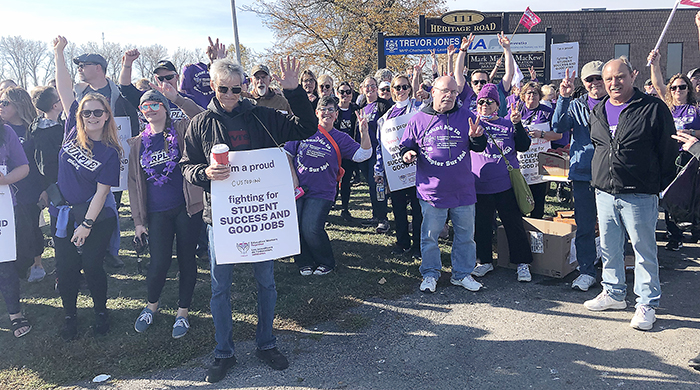 Hundreds of CUPE members took to the streets in Chatham Friday to protest government action regarding contract negotiations with Ontario's 55,000 educational support workers.
Members of CUPE Local 1238, which represents 1,000 Lambton Kent District School Board workers, and members of CUPE Local 4168, representing around 600 employees with the St. Clair Catholic District School Board, were on hand.
Wearing shirts emblazoned with "The Power of Purple" the enthusiastic crowd marched along Keil Drive, waving flags and placards, and also congregated in front of Chatham-Kent–Leamington MPP Trevor Jones's office on Heritage Road.
Schools were closed Friday as union members fought back against the government's enacting of Bill 28, a law that imposed contracts on workers and banned them from striking.
The law also incorporates the notwithstanding clause to protect against constitutional challenges, a legal action that has only been used twice in Ontario's history. Both of those times were by Premier Doug Ford's government.
Local 1238 president Michele Lalonge-Davey told The Voice that workers will continue strike action, adding it's now become a social justice and human rights issue.