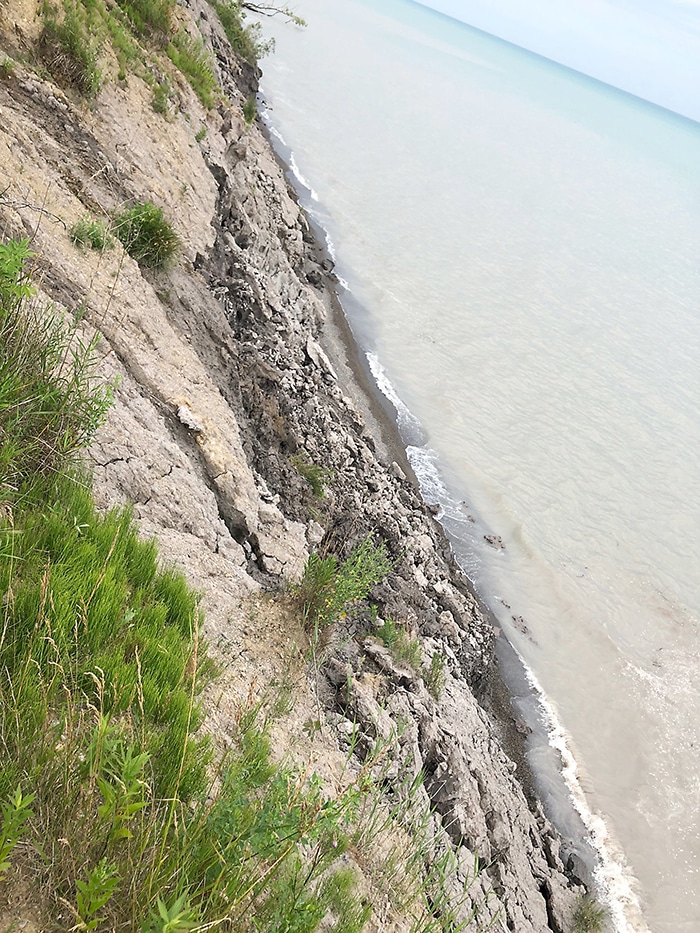 Editor: We should all be inspired by the words of Volodymyr Zelensky spoken soon after the start of the Russian invasion of his country, Ukraine. When asked by the West if he personally wished to escape the hostilities, he is quoted as saying, "The fight is here. I need ammunition – not a ride."
While our troubles here in Chatham-Kent pale by comparison, if only our municipal leaders could muster a similar resolve to recognize the source of the problem affecting Talbot Trail and organize the resources to fix it rather than retreating from it. To be sure, they must recognize the need to stabilize our lakeshore in order to retain the existing Talbot Trail. But the question is whether there will be enough like-minded leaders to carry the day in the wake of the election.
The Zuzek Shoreline Study dated April 23, 2020 provided two options to the mayor and council in order to address what it predicted would be the deterioration of Chatham-Kent's Talbot Trail due to shoreline erosion. It recommended building a billion-dollar revetment wall, or in the alternative, that we should retreat and relocate the highway far to the north of its existing location.
Much could be said about the study's exaggeration of the future rate of shoreline erosion and its failure to inquire into the success of existing shoreline protection measures. But it was shocking to see how quickly the municipality turned its mind towards the option of retreating to an encroachment on farmland without so much as consulting with the agricultural community.
Their logic appeared to be that there was no public money for shoreline remediation and that any land that would become paved over or that might fall into Lake Erie was not of much value in any case.
They were misguided on both fronts.
First of all, it was striking to witness the municipality's failure to appreciate that this part of Chatham-Kent is the envy of the world because of its temperate climate, high-quality agricultural land and access to an almost limitless supply of fresh water. Think of the countries that are now, or that will become, desperate for just that combination of resources, especially with the progress of climate change!
The thought that we would retreat from the lake and unnecessarily pave valuable agricultural land while allowing other residential and agricultural land to fall into the lake is unconscionable.
Further, Chatham-Kent is blessed with having an established route –the Talbot Trail – which connects Rondeau Park to Wheatley. There is no reason why it could not someday promise the cache of a drive around the Cabot Trail or along the Niagara Parkway.
Talbot Trail connects us with fishing businesses, marinas, unique agricultural production areas, farm markets, walking trails, camp sites, recreational parks and magnificent views of Lake Erie. It is the lake that sustains these endeavors and thinking of it as a foe from which one must retreat demonstrates an appalling lack of vision. Our leaders need to take the opportunity to develop this area as a recreational destination that is based on its natural beauty and good design planning.
This would benefit all of Chatham-Kent, although it will likely require the creative assistance of some skilled people.
While there may be no public money right now to assist with lakeshore stabilization, that does not mean there is nothing that can be done. Our newly elected municipal leaders should recognize the unique opportunity that exists right now and seize the momentum created by the controversy over the relocation of Talbot Trail in order to obtain a positive outcome.
To begin with, it will take courage to start a public discussion about an otherwise taboo topic in Chatham-Kent. The authors of both the Zuzek and the subsequent Environmental Assessment Studies certainly did not have the fortitude to do so, even though this topic should have been highly relevant to both studies.
They all refused to examine the success of what local residents have been doing for generations to stabilize their own shorelines. There is a treasure trove of historical knowledge that is too precious to lose regarding the materials and techniques that work best.
Further, there are creative and economical solutions to explore from many sources.
But the first thing that Chatham-Kent needs before tackling the problem of shoreline stabilization is knowledge, not money. And that knowledge needs to be freely shared with all.
All of this should engage the imagination and co-operation of our lakeshore community and would likely also require the re-evaluation of some of the regulations that impact our ability to maintain lakeshore integrity. While there is no reason not to continue to try to marshal funding for shoreline protection, there is much other work to be done. It remains to be seen how many of our new slate of councillors are up to the challenge.
Retreat from the lake should not be an option since that has zero chance of addressing the real issue, which is lakeshore stabilization.
Lucy Glenn
Blenheim