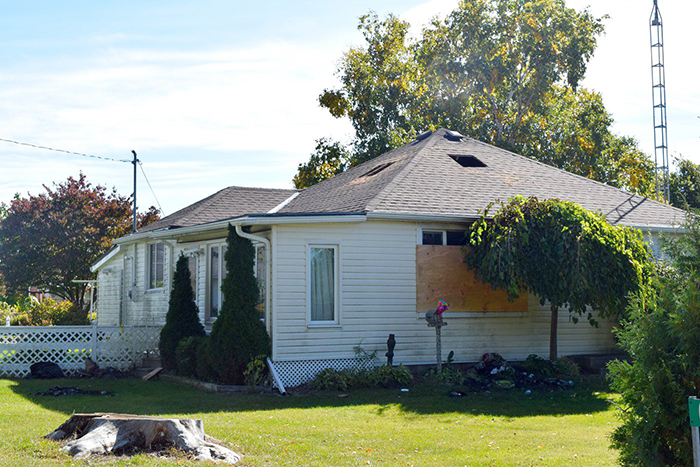 By Calvi Leon
Local Journalism Initiative Reporter
The London Free Press
The 73-year-old woman who died in a house fire near Bothwell was an animal lover with a "heart of gold," her friend says.
Linda May Blackwell died in the blaze early Saturday at her rural home between Bothwell and Newbury.
"She loved her animals," Brian Wry, her friend of 10 years, said, adding she had chickens and three cats, which died in the fire.
"She liked them better than people. They were her life," he said. "And she was a hermit. She loved being out in the country and loved what she had. She just was a kind lady."
As of Monday, provincial police had not publicly identified Blackwell as the person found dead after emergency crews responded to 696 Cameron Rd., southwest of Newbury, at about 7 a.m. Saturday.
The Ontario Fire Marshal's office is investigating the cause of the fire, spokesperson Sean Driscoll wrote in an email Monday.
A damage estimate was not available, but fire and smoke damage to the home was visible from the outside. The windows are boarded up, and there are holes in the roof.
Blackwell moved to Canada from London, England, around 1975. She was a private person who lived alone on the rural property for 12 years, Wry said, noting they grew close when he started helping her with house chores and raising her chickens.
Blackwell's health started to deteriorate about four years ago due to problems with her back, and she was becoming increasingly less mobile. Between Wry and two personal support workers, she had people visiting at least twice a day.
When Blackwell wasn't at home, she would search for nifty finds.
"She is a frugal lady. She loves shopping at Value Village, and if she got a good deal, she was happy," Wry said.
She'd walk around her house and point out all her best deals. "She'll tell you about her $5 couch and her $2 clock."
A small bouquet of flowers was left outside Blackwell's home on Monday.
One neighbour across the road said he made the 911 call after noticing the blaze just before 7 a.m. Saturday but declined further comment.
While investigators work to determine the cause of the blaze, Wry wants to see the damage repaired soon so he can fulfill Blackwell's final wish of selling the home and donating the money to various charities.
"Lind's got a heart of gold," he said, referencing her nickname. "Her whole property and her estate she gave to charity. She just believed in charities. So, I want to get the house fixed up and then get it sold to someone so the charities she picked can benefit from the money."
Donations in her memory can go to the Canadian Red Cross Sarnia-Lambton or Salvation Army Chatham-Kent ministries.