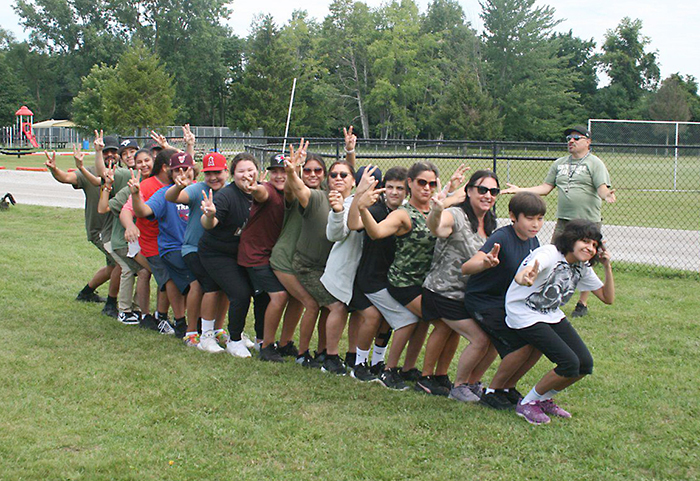 By Bird Bouchard
Local Journalism Initiative Reporter
A group of children in Delaware Nations had the opportunity to learn leadership skills and build their confidence in the form of a four-day boot camp.
Turtle Concepts was in Moraviantown recently at the community centre.
The kids, part of a summer youth program, were part of "Boot Camp with Love," a leadership program with a military twist. The goal of the boot camp was for the kids to learn how to be soldiers of leadership.
"We're just having a fun camp with the kids and remind them that it's important to stay in control, and how to learn about your body and how you have control over that if you want," said Dave Jones, program leader.
The boot camp invited the kids to get dirty, roll around in the dirt and live the life of a soldier. Jones taught the concept of having each other's backs through various games, emphasizing teamwork requires trust.
"As you will notice, some people struggle with trusting and body contact. This game is going to help you in life. There are always good people somewhere," said Jones.
He said his company, Turtle Concepts, travels across the nations and focuses on helping kids with self-esteem, leadership, identity and anything that will contribute to their confidence.
"We have been visitors here in the community of Delaware nation. And we've always had a wonderful response," he said. "They're laughing, joyous, and it's really nice to have that kind of relationship with communities like this one."
While Turtle Concepts is a worldwide organization, Jones said he called the four-day program "Boot Camp with Love" because he and his team have challenged the kids to be stronger, wiser and better.
"It's all about learning to respect diversity, respect each other and to respect yourself and learning how to be a better team player and make the world a better place," he said.
Jones said he is thankful for Tammy Jacobs, the student success worker, who found funds for the project.
On the first day of the camp, the children got an overview of what the camp details were, as well as rules to follow. The idea of "staying in control" was presented. Participants were then assigned to platoons, did drills and learned commands.
The second day of camp included a recap and a continuation of games and drills.
On the third day of camp, the soldiers were invited to the centre as Fanshawe College Turtles gave a brief presentation on college life and how to start thinking about it.
Days also included obstacle courses and other drills and games.
On the fourth and final day, Jones held a banquet with awards, prizes and highlights from the boot camp. The boot camp concluded with a final performance of "Survivor" for all those who made it thru the week.
Jacobs said she is a fan of the boot camp as it helps spread knowledge, pride and wisdom.
"Turtle Concepts came here before. They teach confidence and trust. This time, it's in a boot camp form, but they also teach a lot of First Nations issues, college and other paths of life. They share their stories of good and bad things that have happened in their lives," said Jacobs.