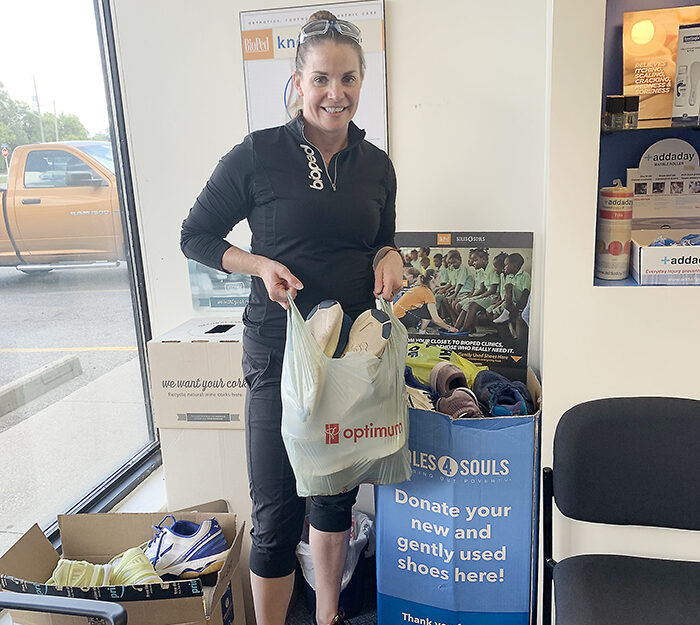 If you have a kind soul and an old pair of shoes, BioPed is the destination for you.
The foot-care clinic, located on Grand Avenue East in the plaza at the base of Michener Road, is involved with Soles4Souls Canada, a charity organization that distributes used footwear across the nation and around the globe.
Just as importantly, Jennifer Johnstone, who runs the BioPed Foot Care Clinics in Chatham and Leamington, will distribute good-quality footwear locally when possible.
"We will go through the shoes when we get them. Anything that's in really good shape, we will set aside," she said.
Johnstone has a contact with a local soup kitchen. They will take and redistribute the shoes.
"We have done it with the Salvation Army in the past. Anything that is in really good condition, we try to keep local," she said.
That is not to say Soles4Souls distributes shoes in a sad state of disrepair elsewhere. Rather, Johnstone said the organization has the ability to repair shoes, or have affiliated organizations in destination countries make the repairs.
"Any shoes; men's, women's, kids', you name it. Even though you think they might be crappy, you may as well donate them as they (Soles4Souls) can always find people in need," Johnstone said.
The donations keep pouring in for Soles4Souls locally, but Johnstone would love to see more.
As it stands, she said part of her garage is serving as the local warehouse for the donations.
"Currently half of my garage is full of garbage bags full of shoes," she said. "Unfortunately for my husband, his car can't be in the garage."
She has more than 400 pairs of shoes on hand and is preparing for a pickup.
When Johnstone has enough shoes, she'll either co-ordinate with Soles4Souls to get the pickup, or she'll take them to the charity's warehouse just outside the Greater Toronto Area.
Sometimes, a donator's schedule doesn't mesh with the clinic's hours, and that's OK.
"I have come to work in the morning to bags of shoes in front of the door," she said. "And you don't have to be a client to donate."
BioPed Chatham's hours are Monday-Thursday 8 a.m. to 5 p.m., and Friday 8 a.m. to 4 p.m.
Johnstone would love to see a club or a school get involved in the Souls4Soles program as well. A school or a class would be a good fit too, she said.
"If anyone wanted to have a shoe drive, we'd be more than happy to co-ordinate with them.
For more information, 519-355-1142.
All that Glitters…
Yes, a "reopening" sign was spotted recently in the window of Glitters Restaurant.
But, no, it's not Glitters that is reopening, but instead is it a new endeavour.
According to information posted on the Glitters' Facebook page, the people who purchased the building did not purchase the Glitters name, menu and recipes.
"Sorry, you still won't be able to get the Glitters secret French fries seasoning," the social media post said.
Business Voice is a bi-monthly column in The Chatham Voice that highlights some of the achievements made and efforts underway in Chatham-Kent's business community. Send your information to bruce@chathamvoice.com.
Comments
comments