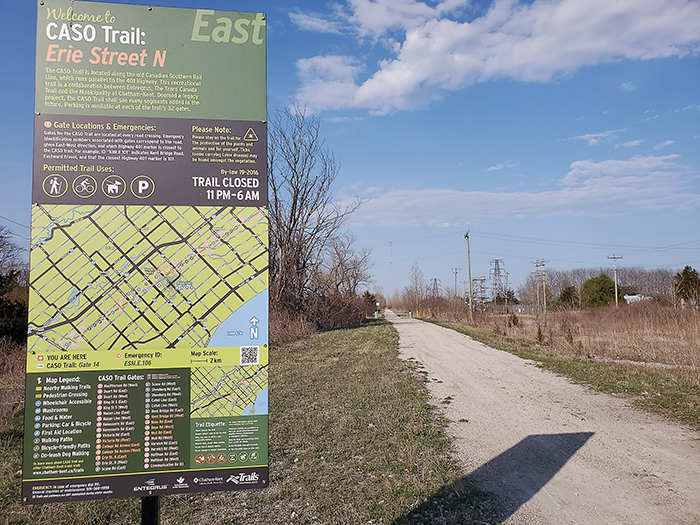 Now that it's August, it's time for the annual C-K Trail Challenge.
This year the event will feature weekly themes along with free prizes while supplies last.
The Chatham-Kent Public Library is partnering on the challenge and cyclists are urged to pick up a free prize. Participants are also encouraged to grab some trail booklets and cycling maps.
Throughout the month, QR codes will be posted on trails across the municipality. The codes can be scanned, which allows trail enthusiasts to enter for a chance to win a prize pack. Ten will be given out.
According to a municipal media release, the challenge is designed to showcase the diversity of our trails.
Week one will feature forested trails including:
Rotary Eco Trail – Chatham
Northside Park Trail – Tilbury
T.R.E.E.S. Memorial Forest Trail – Ridgetown
Merlin Conservation Area – Merlin
Grant Bowman Trail – Wheatley
Water trails are featured in week two including:
Mud Creek Trail – Chatham
McGeachy Pond Conservation Area – Erieau
Macdonald Park Trail – Wallaceburg
Lakeshore Trail South – Mitchell's Bay
Crothers Park Trail – Wallaceburg
Week three showcases suburban trails including:
Keil Drive Multi-Use Pathway – Chatham
Boulevard Trail – Erieau
Trillium Trail – Dresden
Befit-Trail – Blenheim
Glen Mickle Fit Trail – Wallaceburg
The final week will focus on family with extra activities planned:
Lark Park Pathway – Chatham
Centennial Park Pathway – Pain Court
Odette Memorial Park Pathway – Tilbury
Ferguson Park – Thamesville
Flook Trai – Blenheim
Area residents are encouraged to get outside and enjoy what Chatham-Kent's trail system has to offer.
Prize packs include reusable water bottles, drawstring bags, baseball hats and sunglasses.
Plus, everyone can pick up a free bike bell at the library.
For more information visit chatham-kent.ca/trails.