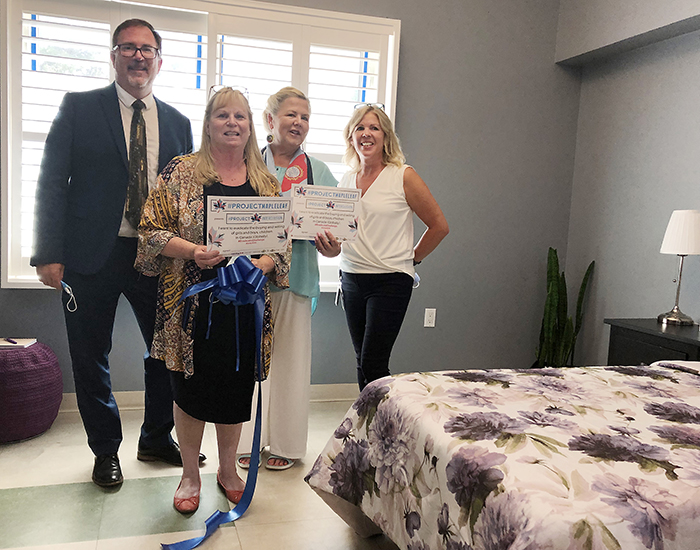 By Pam Wright
Local Journalism Initiative Reporter
Think human trafficking is a big city problem that happens somewhere else?
Think again.
As of last week, five women were receiving assistance from various agencies in Chatham-Kent to help them escape a life of forced labour or sex work.
More help is on the way.
On Thursday, to mark the United Nation's World Day to End Human Trafficking July 30, the Chatham-Kent Women's Centre dedicated one of its bedrooms to victims of human trafficking.
However, the cozy lilac-coloured room, complete with a flowery bedspread and a baby's crib, is just the beginning, advocates say.
"This is one bed and we need one home," human trafficking survivor Kelly Tallon Franklin told officials gathered at the ribbon cutting ceremony.
Tallon Franklin is the chief executive director of the Courage for Freedom agency, which assists human trafficking survivors and promotes education and awareness about the issue. Since 2013, she's personally worked with more than 500 human trafficking survivors.
She's also a member of the fledgling Chatham-Kent Anti-Human Trafficking Coalition, that was also officially launched at Thursday's ceremony.
Its executive is comprised of community and health agency leaders.
Tallon Franklin said the coalition has some "robust goals" in the coming year and she urges the public to step up and be the "eyes and ears" in the fight against human trafficking and to "smash the stigma" surrounding the crime.
She said that includes starting a conversation with "buyers," who struggle with sexually impulsive behaviours, however, she said the aim isn't to vilify men and traffickers but to have the conversation about buying sex.
"You might ask yourself why Chatham has become a hub (of human trafficking) but it's because people are buying people for sex here, and that includes those who are being trafficked," the tireless advocate explained.
Chatham-Kent Women's Centre executive director Karen Hunter said the time has come to build a fully funded safe transition house to assist human trafficking victims.
According to Hunter, the numbers are growing with local agencies seeing an increase in requests for help from women, and women with children, who are trying to exit what's referred to as "the game.
"Six years ago, you didn't hear about human trafficking as often," Hunter noted. "Now it's become a weekly thing. We tend to think of it as a made-for-TV movie, but it's happening right here."
Human trafficking takes many shapes, Hunter said, with vulnerable and desperate people falling prey to traffickers.
Tallon Franklin, who has called Chatham-Kent home for the past two years, helped found #ProjectONRoute with the help of a teen who had been trafficked. #ProjectONRoute helped raise awareness about the Highway 401 corridor being used as a human trafficking pipeline.
The movement has expanded across Canada and is known as #ProjectMapleLeaf. This year, to mark World Day to End Human Trafficking, participants are encouraged to download a pledge form calling for the eradication of the buying and selling of girls and boys in Canada and globally, and to post the form on social media to raise awareness.
To find out about becoming involved or helping the anti-human trafficking movement locally, contact CKCoalition@gmail.com. To financially support the new anti-human trafficking victim support bed, mail the Chatham-Kent Women's Centre at 20 Sandys St., Chatham ON, N7L 4Y5, or go online at canadahelps.org/en/dn/5375.
To find out more about ProjectMapleLeaf, or to request presentations, professional trainings or support a minor-aged survivor, call 519-615-2292 or e-mail info@courageforfreedom.org.