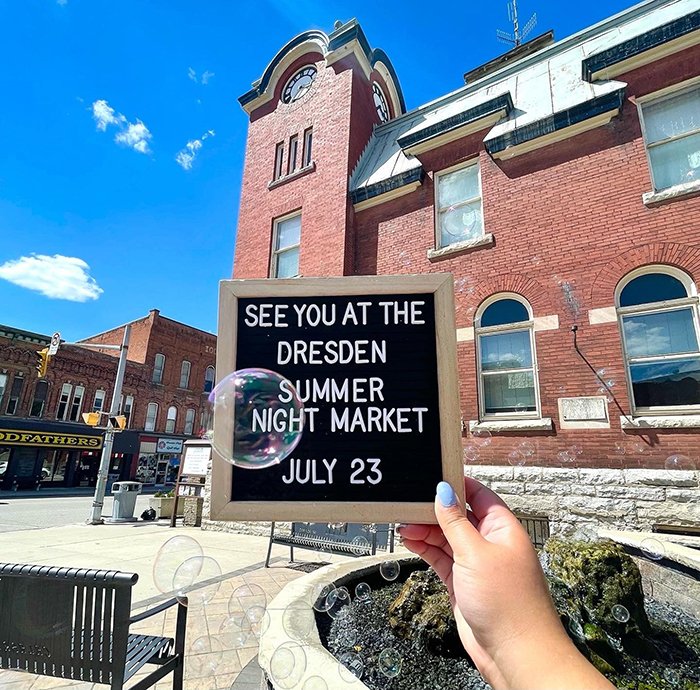 By Pam Wright
Local Journalism Initiative Reporter
Dresden's popular Night Market is back – bigger, better and greener than ever before.
Returning July 23 after a near three-year pause, the summery festival will feature some 85 vendors, live music, food trucks and a pop-up bar.
This 2022 version of the Dresden Night Market will also feature a brand-new 'zero waste' approach.
According to market co-organizer Morena McDonald, reusable cups will be dispensed to each guest at the pop-up bar, which they can bring back to use at future events.
"The idea is to drink, rinse and repeat," McDonald explained, as stations will be set up for patrons to clean their cups.
"We've always tried to be environmentally responsible," she added. "This is a small step towards helping the environment."
In addition, guests are being encouraged to bring their own reusable utensils and bags for food and purchases.
"All these things work together to help the community and the environment," McDonald added. "It takes everybody."
The excitement surrounding the return of the Night Market continues to build.
"There's a lot of community pride in Dresden and people are interested in attending," McDonald noted, adding there's "plenty of interest" from around Chatham-Kent.
This year will also see an increase in community-based organizations taking part, trying to raise awareness and draw new volunteers to agencies hard-hit by the pandemic.
"We really wanted to help non-profit groups and grassroots organizations," McDonald added.
Local craft breweries will also be on tap as well as the Dresden Legion wine bar.
The Dresden Night Market runs from 4 p.m. to 11 p.m., taking place in Dresden's downtown and extending into Jackson Park.
Founded in 2017, the night market is organized by a group of volunteers with the help of Together CK municipal grant.
The group also runs a Christmas market event.